VMware 5v0-42-21 practice test
VMware SD-WAN Design and Deploy Skills Exam
Last exam update: Dec 02 ,2023
Page 1 out of 3 Viewing questions 1-15 out of 52
Question 1
A customer is using Office 365.
How would the VMware SD-WAN recognize this application correctly?

A. The VCE supports prioritization and QoS. Each application is assigned one of the three Service Classes and three Business Priorities.
B. Top SaaS Apps (TLS encrypted) are identified using put. IP and port ranges Other TLS traffic can be identified based on the certificate information.
C. Office 365 has to be added as part of customizing the Application Map by TCP/UDP port and subnet ranges.
D. VMware SD-WAN will use SSL inspection to detect Office 365.
Question 2
Which statement describes a characteristic of VMware SU-WAN Edge (VCL) clustering?

A. One VCE cluster can be formed with both virtual and hardware at the same lime
B. A VCE cluster requires one dedicated interface for HA sync
C. VCF clusters member sync flow tables between themselves.
D. VCE cluster members should have unique IP addresses on its WAN interfaces
Question 3
During a security-related discussion, an administrator determines that guest users not be able to
access any resources on the corporate network.
Which VMware SD-WAN feature can achieve this goal in the most scalable and manageable way?

A. Segments
B. Business Policy
C. VLANs
D. Firewall
Question 4
Which port is used for communication between VMware SD-WAN Edge and Orchestrator if there are
no tunnels established to the Gateways?

A. UDF 2426
B. TCP 80
C. TCP 443
D. UDP 500
Question 5
Which feature is required to prevent a split-brain condition for a branch in an Enhanced HA

A. Split Brain Detection
B. SD-WAN Service Reachable on the private overlay
C. Cloud VPN
D. VRRP
Question 6
Refer to the exhibit.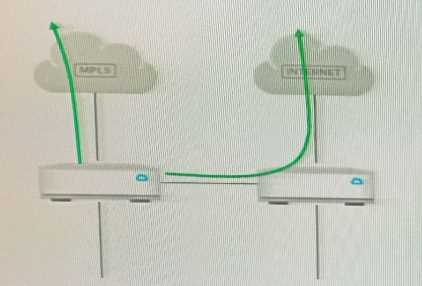 Which VMware SD-WAN Edge High Availability deployment is being used"?

A. Enhanced HA
B. Fault Domain HA
C. VRRP HA
D. Standard HA
Question 7
A technician at a customer site is deploying VMware SD-WAN Edge 620 notices that the Edge LED is
shown amber.
What is the meaning of this LED color?

A. Edge is still booting.
B. DNS is not reachable from the Edge.
C. Edge is not activated.
D. Internet is not available from the Edge
Question 8
Which statement is true about the VMware SD-WAN Gateway roles and assignments?

A. Primary Gateway cannot be used as Super gateway for Edge-to-Edge communication, even it all the Edges have a common Primary gateway
B. The SD-WAN Orchestrator assigns the Gateways to the Edge automatically when it comes up based Oil (lie location of the Edge Branch-to-branch will choose the right Gateway automatically
C. If the Primary Gateway goes down. Cloud internet traffic would failover to Secondary gateway automatically
D. The Primarily and Secondary Gateways share the load fur both internet traffic and VPN traffic
Question 9
A customer is using VMware SD-WAN and has branches in different continents where the Edges are
assigned with local Gateways.
Which Gateway should be used so all the branches can build tunnels with one another?

A. Regional Gateway
B. Super Gateway
C. Primary Gateway
D. Alternate Gateway
Question 10
A network architect is designing a VMware SD-WAN architect for customer using VMware hosted
VCO and VCGs, white VCEs will be deployed at the customers branches and data centers. The
network architect would like to achieve control plane redundancy.
Which action, if any, should be taken to meet this goal?

A. Multiple VCGs are automatically assigned to every VCE and control plane on VCUs is always enabled, so control plane redundancy has been taken care of already
B. Multiple VCFs at data centers can be contoured to function as route reflectors to achieve control plane redundancy.
C. VCGs automatically assigned to a VCF. do not participate in control plane At least two dedicated Controllers should be manually assigned for each VCGs to achieve control plane redundancy.
D. VCGs automatically assigned to a VCE do not participate in control plane At least two dedicated Controllers should be manually assigned for the customer to achieve control plane redundancy
Question 11
An administrator has been receiving complaints about their SaaS business collaboration apps.
Which network service should the administrator use to resolve the issue?

A. Backhaul
B. Multi-Path
C. CoS mapping
D. Direct
Question 12
What Is a typical use case for the deployment of a VMware SU-WAN Partner Gateway?

A. Provide connectivity between multiple enterprise customers over private circuits
B. Get improved flow analytics for all traffic in the SD-WAN network
C. Interconnect branches/remote sites of a single enterprise customer to the internet
D. Provide mite transport m a service provider backbone tor interconnecting a global customer SD- WAN branches.
Question 13
A customer is using hypervisor to install VMware Partner Gateways.
Which two hypervisors may be used? (Choose two.)

A. Hyper-V
B. Kubermetes
C. XenServer
D. KVM
E. ESXi
Question 14
An enterprise has deployed a VMware SD-WAN solution with Edges in many different located to
different Partner Gateways.
Which design makes it possible to have dynamic branch to branch VPN tunnels between any two
Edges?

A. Dedicated at least one Gateway as a Controller, and few initial data plane packets will travers the Controller before dynamic tunnel is established between the two branches.
B. Add Controller role to each Partner Gateway.
C. Configure each partner Gateway as a Controller.
D. Dedicate at least one Gateway as a Controller, and no data plan packets will traverse the Controller before dynamic tunnel is established between the two branches.
Question 15
Which characteristic of Software Defined Networks (SDN) is also true for VMware SD-WAN

A. VMware SD-WAN requires specialized hardware to run its software
B. VMware SD -WAN provides distributed management and control plane
C. VMware SU-WAN allows customers to program the forwarding plane
D. VMware SD-WAN provides separation of management control plane, and the data plane.