VMware 2v0-5121 practice test
Professional VMware Horizon 8.x
Last exam update: Dec 02 ,2023
Page 1 out of 9 Viewing questions 1-10 out of 94
Question 1
An administrator has been tasked with determining the type of Horizon deployment for their organization.
These requirements have been provided to the administrator:
It must support Windows 7 and Windows 10 desktops.
It must support App Volumes Cloud.
It must support hybrid cloud.
It must support Centralize brokering.
It must automatically route end users to the most appropriate virtual workspace.
Which deployment solution meets the requirements?
A. Horizon On-Premises
B. Horizon Cloud Service on Azure
C. Workspace ONE Unified Endpoint Management
D. vSphere Desktop Edition
Question 2
To reduce the risk of users downloading malware to the corporate network, an administrator wants to allow end users to open only intranet websites inside their virtual desktop. Additionally, the administrator wants to configure all other URLs to automatically open in a browser on the end-user's client machine.
Which steps should the administrator take to meet the requirements? (Choose two.)
A. Enable the URL Content Redirection feature on the desktop pool settings.
B. Enable the URL Content Redirection feature in Horizon Agent.
C. Configure group policy settings to indicate how Horizon Agent redirects the URL.
D. Enable secure website settings in the Global Settings Security menu.
E. Disable the Allow External Website feature in Horizon Agent.
Answer:
cd
Reference:
https://docs.vmware.com/en/VMware-Horizon-HTML-Access/4.5/com.vmware.horizon.html-access-45.doc/GUID-976EEA30-13C8-4894-AEA5-
D08C83C1210F.html
Question 3
Which three options are required to use an instant-clone pool? (Choose three.)
A. VMware vSphere
B. Horizon Intelligence
C. Horizon Composer
D. Horizon Connection Server
E. Horizon Agent
F. High speed Internet Access
Answer:
ade
Reference:
https://docs.vmware.com/en/VMware-Horizon/2106/virtual-desktops/GUID-AD6D9E9B-5EDD-4B0F-A65C-7D4393028420.html
Question 4
An administrator wants to provision a new Golden Image but doesn't see the VM in the list with golden images.
Which could be the cause of the issue? (Choose two.)
A. No snapshot was made after optimizing the golden image.
B. There is more than 1 active snapshot on the golden image.
C. The golden image VM is not configured with a CD-ROM player.
D. The wrong Guest OS Version was selected when creating the golden image.
E. The golden image was not optimized.
Answer:
ae
Reference:
https://docs.vmware.com/en/VMware-Horizon/2006/virtual-desktops/GUID-D9C46AEF-1C41-4711-BF9E-84362EBE6ABF.html
Question 5
An administrator used the Horizon Console to specify the Active Directory account for joining instant-clone VMs to the Active Directory domain.
What two permissions must be granted to the Active Directory account to perform this task? (Choose two.)
A. Grant Inventory Administrator role.
B. Write properties in the domain or in the organization units.
C. Create and delete computer objects.
D. Grant the Global Domain Administrator role.
E. Grant the Horizon Domain Admin role.
Answer:
ce
Reference:
https://www.carlstalhood.com/vmware-horizon-7-configuration/
Question 6
A Horizon administrator wants to implement Dynamic Environment Manager so that application configuration data is injected when the application is started.
Which option would provide this feature?
A. Application Migration
B. DirectFlex
C. Triggered Tasks
D. Group Policies
Question 7
DRAG DROP Drag and drop the Anywhere Workspace components on the left to their respective function on the right.
Select and Place:


Answer:


Question 8
An administrator is preparing to upgrade Horizon Connection Servers in parallel.
What action must first be performed to ensure that there are no issues with Horizon LDAP replication within the Pod?
A. Execute vdmadmin.exe -s.
B. Execute vdmexport.exe -f Myexport.LDF.
C. Execute repadmin.exe /showrepl localhost:389.
D. Execute ViewDBChk.cmd --scanMachines.
Answer:
c
Reference:
https://docs.vmware.com/en/VMware-Horizon/2106/horizon-upgrades/GUID-1B7271A5-3312-49DF-97CF-53FEC8C4AED8.html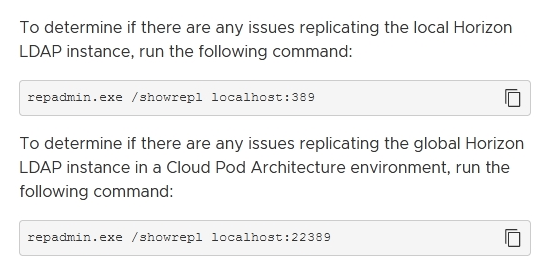 Question 9
Which are two methods to gather the Horizon Client log bundle? (Choose two.)
A. Start the Horizon Client with the /supportbundle option.
B. From the Horizon Help Desk, select generate client log bundle from the session properties.
C. Gather the log bundle remotely from the connection server.
D. In the Horizon Client, select About VMware Horizon Client and click Collect Support Data.
E. At the Command Line use Support.bat.
Answer:
de
Reference:
https://kb.vmware.com/s/article/1017939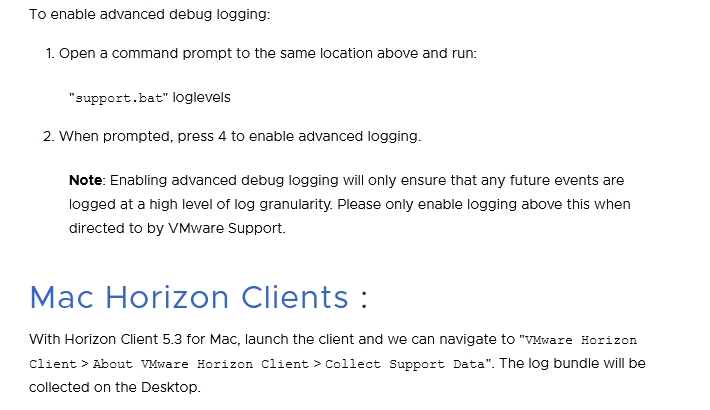 Question 10
Which two built-in apps are supported and automatically added to the profile of a multi-app kiosk profile? (Choose two.)
A. Calculator
B. Microsoft Word
C. Microsoft Edge
D. Camera
E. Sticky Notes
Answer:
ae
Reference:
https://docs.vmware.com/en/VMware-Workspace-ONE-UEM/2011/Windows_Desktop_Device_Management/GUID-AWT-PROFILE-

CONFIGUREKIOSKWD.html -