palo alto networks pccsa practice test
Palo Alto Networks Certified Cybersecurity Associate
Last exam update: Dec 02 ,2023
Page 1 out of 5 Viewing questions 1-15 out of 79
Question 1
What does a hypervisor enable?

A. high-speed searching of already aggregated security log files
B. high-speed aggregation and viewing of security log files
C. multiple physical machines to be configured into a high-performance cluster
D. multiple guest operating systems to run on a single physical machine
Question 2
DRAG DROP
Match the OSI network model Layer 3 function to the correct description.
Select and Place:

Answer: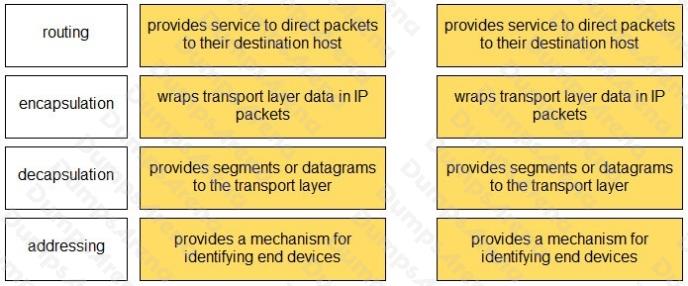 Question 3
Which two remote access methods are secure because they encrypt traffic? (Choose two.)

A. IPsec-AH
B. SSH
C. VPN
D. Telnet
E. rlogin
Question 4
Which type of adversary would commit cybercrimes with the authorization of their country's government?

A. state-sponsored
B. hacktivist
C. gray hat
D. white hat
Question 5
Which protocol converts voice into a digital signal?

A. IVO
B. VoIP
C. SNMP
D. IGMP
Question 6
From which resource can a Palo Alto Networks firewall get URL category information for URLs whose categories cannot be
found on the firewall?

A. App-ID database
B. WildFire
C. PDF file
D. PAN-DB database
Question 7
A firewall located on an organization's network perimeter can be used to protect against which type of attack?

A. a malicious SaaS application file accessed from an unmanaged mobile phone
B. ransomware installed from an infected USB drive
C. malware installed on the laptop by a disgruntled employee
D. a malicious PDF file located on an internet website
Question 8
In the context of a mobile device management solution, what is a function of the "policy enforcement" feature?

A. controls which websites can be accessed when connected to Wi-Fi
B. controls which Wi-Fi networks can be accessed
C. controls which phone numbers can be dialed
D. controls which password/passcode settings are allowed
Question 9
What does Palo Alto Networks Traps do first when an endpoint is asked to run an executable?

A. send the executable to WildFire
B. run a static analysis
C. run a dynamic analysis
D. check its execution policy
Question 10
In PKI, which item is issued by a CA?

A. digital certificate
B. SSH key
C. KDC ticket
D. shared key
Question 11
DRAG DROP
Match each cryptographic method with its description.
Select and Place:


Answer:

Question 12
Which action must be taken prior to a successful ransomware attack to enable recovery from the attack?

A. create a data snapshot on your IDS device
B. back up all hosts that contain critical data
C. update all firewall malware signatures
D. limit external exposure of internal DNS resource records
Question 13
Which type of firewall monitors traffic streams from beginning to end?

A. circuit-level gateway
B. stateless
C. stateful
D. packet filter
Question 14
Which option describes a characteristic of a distributed denial-of-service attack?

A. uses multiple types of malware to corrupt system services
B. uses a single remote host to delete data from multiple target servers
C. uses a single remote host to flood a target network with traffic
D. uses a botnet to flood traffic to a target network
Question 15
Which two types of SaaS applications are allowed by an IT department? (Choose two.)

A. tolerated
B. certified
C. sanctioned
D. unsanctioned
Answer:
A C
Explanation:
Reference: https://www.paloaltonetworks.com/cyberpedia/saas-security