NetApp ns0-527 practice test
NetApp Certified Implementation Engineer - Data Protection Exam
Last exam update: Nov 27 ,2023
Page 1 out of 10 Viewing questions 1-15 out of 156
Question 1
A customer has a new cloud strategy. They want to replicate mission-critical SAN volumes to the
cloud for DR. Which NetApp technology satisfies the requirement?

A. Cloud Sync service
B. Fabric Pool technology
C. Cloud Volumes Service
D. Cloud Volumes ONTAP
Question 2
Which attribute does Data ONTAP use the identify Snapshot copies between primary and secondary
FlexVol volumes in a SnapVault relationship?

A. FlexVol name
B. Snapshot prefix
C. SnapMirror policy
D. SnapMirror label
Question 3
You have deployed IntelliSnap to list NetApp Snapshot copies in volumes on your ONTAP system,
schedule new backups on unprotected volumes, and implement archiving to your remote AltaVault
system.
Which additional NetApp product does IntelliSnap require to perform all of these actions?

A. OnCommand Insight
B. OnCommand Unified Manager
C. OnCommand System Manager
D. OnCommand Performance Manager
Question 4
You are copying your data and replicating it off site. What is the called?

A. a backup
B. a demonstration
C. a version
D. a Snapshot
Question 5
You have a SolidFire cluster running SolidFire Element Operating System 10.1 and are asked to
replicate to an existing ONTAP cluster.
Which ONTAP destination is supported?

A. ONTAP Select with the MirrorAllSnapshots policy
B. FAS9000 with the MirrorAndVault policy
C. ONTAP Cloud with the MirrorLatest policy
D. AFF A700 with the XDPDefault policy
Question 6
You must determine if there have been any backup problems overnight. Which two reports in
OnCommand Unified Manager 6.2 would provide you with the required information?
(Choose two.)

A. Unresolved Incidents and Risks area
B. On Command Unified Manager Dashboard
C. On Command Cluster Events Details
D. On Command Job Events Details
Question 7
You are performing a routine health check for a customer and need to determine if the disk shelf
firmware is up to date. From My AutoSupport, which report would you use?

A. Transition Advisor
B. Visualization
C. Upgrade Advisor
D. Event Viewer
Question 8
You are asked to provide a solution that will allow a client to copy the data stored in a FlexVol volume
to a remote tape system for archiving. You are using a cluster-aware backup application to perform
this task.
Which three actions are required when you configure this solution for your client? (Choose three.)

A. Configure NDMP at the SVM level.
B. Configure multiple LIFs for SVM-scoped NDMP.
C. Configure NDMP at the node level.
D. Create a backup user account on the cluster.
E. Configure a LIF for node-scoped NDMP.
Question 9
You have a network outage that affects client access to site

A. Take the source volume offline.
B. Break the SnapMirror relationship.
C. Delete the SnapMirror relationship.
D. Abort the SnapMirror relationship.
Question 10
You want to generate performance-related reports and alerts using the OnCommand Unified
Manager 6.x server. Which two additional tasks must be completed to enable these features?
(Choose two.)

A. Create a local user with limited Event Publisher role privileges
B. Install and configure OnCommand Workflow Automation.
C. Configure a connection between the Unified Manager server and OnCommand System Manager.
D. Configure a connection between the Unified Manager server and a Performance Manager server.
Question 11
Your customer is concerned that his volume might run out of space. Which two volume command
options would be used to resolve this problem?
(Choose two.)

A. snapshot autodelete
B. autosize
C. space-guarantee
D. filesystem-size-fixed
Question 12
Click the Exhibit button.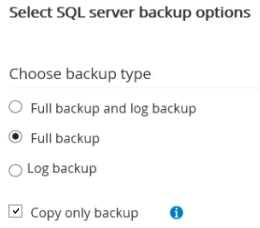 Commvault IntelliSnap and NetApp SnapCenter are both being used to back up the same Microsoft
SQL Server database.
Referring to the exhibit, which action will SnapCenter perform on the Microsoft SQL transaction logs?

A. move
B. keep
C. delete
D. truncate
Question 13
What are two NetApp data protection solutions? (Choose two.)

A. RecoverPoint
B. SnapMirror
C. TimeFinder
D. SnapVault
Answer:
B, D
Explanation:
(
http://www.storagefreak.net/2013/11/snapvault-vs-snapmirror-what-is-the-difference
)

Question 14
A client is planning to configure a SnapMirror relationship between two sites. Normally their ISP
provides network throughput of 100 Mbps; however, they can arrange to have this burst to 1 Gbps
for a period of time at an additional cost.
Their intention is to back up 400 GB of Snapshot data each day using the burst option to keep the
replication time to a minimum. In this scenario, how much burst time do they need to purchase?

A. 15 minutes
B. 30 minutes
C. 45 minutes
D. 60 minutes
Question 15
You have deployed a 4-node fabric MetroCluster configuration for cross-site disaster-recovery
protection. In this scenario, which two statements are correct for an automatic unplanned
switchover (AUSO) operation?
(Choose two.)

A. AUSO is triggered in the event of a site-wide controller failure to provide nondisruptive operations.
B. AUSO is triggered in the event of a complete site-wide failure to provide nondisruptive operations.
C. AUSO is triggered in the event of a site-wide switch failure to provide nondisruptive operations.
D. AUSO is enabled by default on a MetroCluster cluster.