Juniper jn0-1302 practice test
Data Center Design, Specialist Exam Exam
Last exam update: Dec 04 ,2023
Page 1 out of 6 Viewing questions 1-15 out of 96
Question 1
You are designing a Layer 3 Clos fabric architecture for a new data center network infrastructure. You
use IBGP for the underlay control plane of the fabric.
Which devices must support BGP route reflection and BGP ADD-PATH?

A. spine nodes
B. leaf nodes
C. fabric interconnect routers
D. fabric perimeter routers
Question 2
Click the Exhibit button.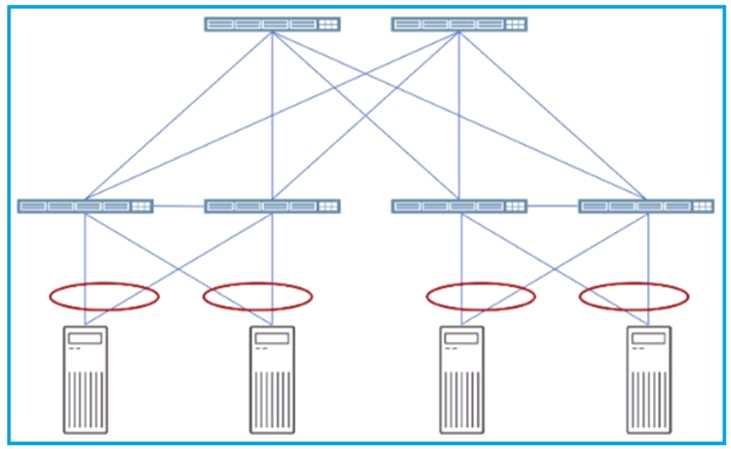 You need to ensure that no single point of failure exists in a new data center that will be deployed.
Referring to the exhibit, which two technologies will accomplish this requirement? (Choose two.)

A. Virtual Chassis
B. LLDP
C. MC-LAG
D. LAG
Question 3
Which two elements are available to implement security within a vRouter managed by Contrail?
(Choose two.)

A. Security Policy
B. Security Group
C. IPsecVPN
D. Network Policy
Question 4
Which statement is correct about end-of-row (EoR) access switch designs when compared to top-of-
rack (ToR) designs?

A. Large EoR designs provide more flexibility for connection types.
B. EoR designs require fewer cable connections to all servers.
C. EoR designs typically provide fewer access devices to manage.
D. Large EoR designs minimize the overall cable length required to connect to all servers.
Question 5
Which two statements are correct when considering redundancy in a data center design? (Choose
two.)

A. Virtual Chassis is not supported in IP fabric designs.
B. Routing protocols in an IP fabric must support ECMP.
C. Redundant power supplies should be wired to the same PDU.
D. LAG between a server and an IP fabric should be on separate physical leaf devices.
Question 6
You are designing a QoS scheme for your data center. You must ensure lossless Ethernet.
What are three protocols that would be used in this scenario? (Choose three.)

A. TRILL
B. SPB
C. ETS
D. DCBx
E. PFC
Question 7
Click the Exhibit button.



Given the physical layout of the data center shown in the exhibit, which two statements are correct?
(Choose two.)

A. A single access tier exists for an entire row of servers.
B. Each rack is managed as a single unit within the data center.
C. Cable run lengths are minimized.
D. The layout requires minimal uplinks.
Question 8
Your company is deploying a private cloud based on OpenStack and has selected Contrail Networking
as their SDN controller. As part of this solution, you must implement distributed firewall capabilities.
In this scenario, which Contrail component implements this function?

A. vRouter
B. vSwitch
C. compute node
D. installer
Question 9
You are asked to design a DCI that offers policy control, active/active multihoming with load
balancing, and minimizes flooding of BUM traffic.
Which DCI implementation satisfies these requirements?

A. EVPN
B. circuit cross-connect
C. BGP Layer 2 VPN
D. VPLSLAG
Question 10
You are designing an EVPN/VXLAN overlay network for your data center. You are planning on reusing
some of your existing devices that do not support VXLAN routing.
Which gateway model should be deployed to support this architecture?

A. spine gateway
B. leaf gateway
C. server based gateway
D. underlay gateway
Question 11
Your corporate network consists of four data centers. Your data centers are already running EVPN-
VXLAN over an IP fabric. You are asked to design a strategy for Layer 3 data center interconnectivity.
Which two methods would satisfy this requirement? (Choose two.)

A. EVPN Type-6 routes
B. L2VPN
C. L3VPN
D. EVPN Type-5 routes
Question 12
You are designing an IP fabric ASN scheme using EBGP.
What are two acceptable ranges in this scenario? (Choose two.)

A. 0-512
B. 100001-199999
C. 64512-65535
D. 4200000000-4294967294
Question 13
Click the Exhibit button.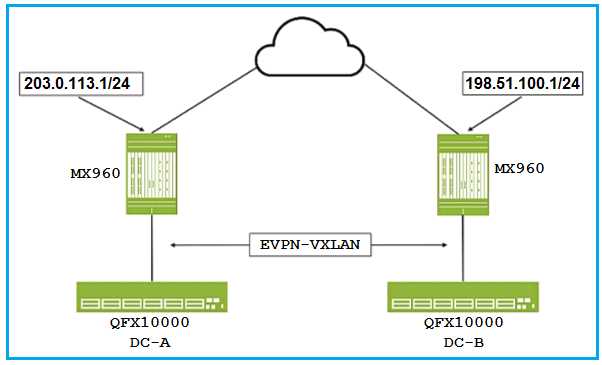 You are in discussions with the WAN team about implementing a Data Center interconnect between
DC-A and DC-B, as shown in the exhibit.
What are two protocols that would support your Data Center Interconnect requirements? (Choose
two.)

A. Layer 3 VPN
B. OVSDB
C. BGP
D. H-VPLS
Question 14
You are developing an automation strategy and have been given the requirements below.
The tool chosen must be supported by multiple vendors.
The tool chosen must not install a client on the networking devices.
The tool chosen must support open standards communication methods.
Which tool satisfies the requirements?

A. Ansible
B. SLAX
C. Chef
D. Puppet
Question 15
Which protocol is used to exchange control information between the participating multichassis LAG
(MC-LAG) peers?

A. BGP
B. OSPF
C. ICCP
D. VCCP