ITIL itilfnd-v4 practice test
ITIL 4 Foundation
Last exam update: Nov 24 ,2023
Page 1 out of 24 Viewing questions 1-15 out of 369
Question 1
When should a workaround be created?

A. As soon as possible, once the incident is logged
B. After the resolution of a problem
C. When a problem cannot be resolved quickly
D. When a potential permanent solution has been identified
Answer:
C
Explanation:
Reference: https://www.globalknowledge.com/us-en/resources/resource-library/articles/incidents-and-problems-
workarounds/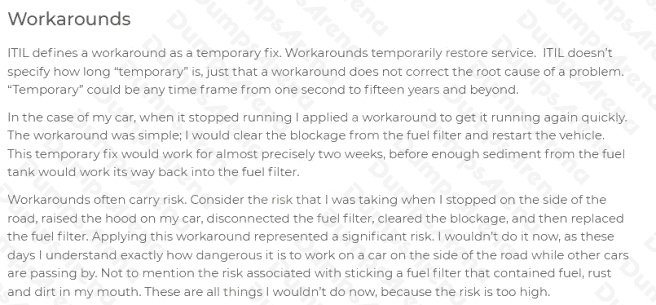 Question 2
Which is a key requirement for successful service level agreements (SLAs)?

A. They should be based on system-based metrics which are useful to the service provider
B. They should be written using language and terms which all parties will understand
C. They should be carried forward, unchanged, from one year to the next to enable consistent service
D. They should avoid ambiguous targets such as those relating to user experience
Question 3
What is a service?

A. A possible event that could cause harm or loss, or make it more difficult to achieve objectives
B. A means of enabling value co-creation by facilitating outcomes that customers want to achieve, without the customer having to manage specific costs and risks
C. A tangible or intangible deliverable of an activity
D. Joint activities performed by a service provider and a service consumer to ensure continual value co-creation based on agreed and available service offerings
Answer:
B
Explanation:
Reference: https://www.bmc.com/blogs/itil-key-concepts-service-management/

Question 4
Which statement about problems is CORRECT?

A. Problems are not related to incidents.
B. Problems must be resolved quickly in order to restore normal business activity.
C. Problem analysis should focus on one of the four dimensions to achieve a fast diagnosis.
D. Problem prioritization involves risk assessment.
Answer:
B
Explanation:
Reference: https://www.bmc.com/blogs/itil-problem-management/

Question 5
Which activity is NOT recommended by the 'start where you are' guiding principle?

A. Applying risk management when considering to introduce new processes
B. Discarding existing processes before assessing their usefulness
C. Involving people who are not familiar with a service when observing and assessing its activities
D. Using service data to avoid any unintentional data distortion found in reports
Question 6
What varies in size and complexity, and uses functions to achieve its objectives?

A. A risk
B. An organization
C. A practice
D. An outcome
Question 7
What includes governance as a component?

A. Practices
B. The service value chain
C. The service value system
D. The guiding principles
Question 8
Which practice improves customer and user satisfaction by reducing the negative impact of service interruptions?

A. Service request management
B. Service level management
C. Incident management
D. Change enablement
Question 9
Which dimension includes the knowledge needed for the management of services?

A. Organizations and people
B. Value streams and processes
C. Information and technology
D. Partners and suppliers
Question 10
Which practice uses technologies such as intelligent telephony systems, a knowledge base and monitoring tools?

A. Service configuration management
B. Service desk
C. Problem management
D. Deployment management
Question 11
Which helps to manage an incident when it is unclear which support team should be working on the incident?

A. Disaster recovery plans
B. Swarming
C. Target resolution times
D. Self-help
Answer:
B
Explanation:
Reference: https://www.bmc.com/blogs/itil-incident-management/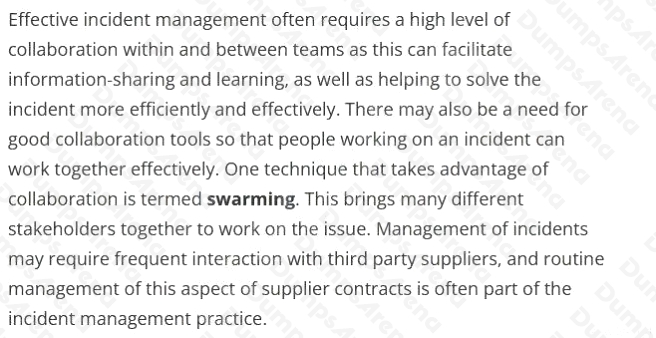 Question 12
Which practice includes the use of approaches such as Lean, Agile and DevOps with the aim of facilitating a greater amount
of change at a quicker rate?

A. Service desk
B. Monitoring and event management
C. Service level management
D. Continual improvement
Question 13
Which is a purpose of release management?

A. To protect the organization's information
B. To handle user-initiated service requests
C. To make new and changed services available for use
D. To move hardware and software to live environments
Question 14
Which guiding principle discourages 'silo activity'?

A. Focus on value
B. Start where you are
C. Collaborate and promote visibility
D. Keep it simple and practical
Question 15
When is the earliest that a workaround can be documented in 'problem management'?

A. After the problem has been logged
B. After the problem has been prioritized
C. After the problem has been analyzed
D. After the problem has been resolved