IBM c1000-059 practice test
IBM AI Enterprise Workflow V1 Data Science Specialist Exam
Last exam update: Nov 27 ,2023
Page 1 out of 4 Viewing questions 1-15 out of 62
Question 1
If the distribution of the height of American men is approximately normal, with a mean of 69 inches
and a standard deviation of 2.5 inches, then roughly 68 percent of American men have heights
between
and
.

A. 64 inches and 74 inches
B. 66.5 inches and 69 inches
C. 71.5 inches and 76.5 inches
D. 66.5 inches and 71.5 inches
Question 2
Which two properties hold true for standardized variables (also known as z-score normalization)?
(Choose two.)
A. standard deviation = 0.5
B. expected value = 0
C. expected value = 0.5
D. expected value = 1
E. standard deviation = 1

Answer:
CE
(none)
Explanation
Question 3
What is the main difference between traditional programming and machine learning?

A. Machine learning models take less time to train.
B. Machine learning takes full advantage of SDKs and APIs.
C. Machine learning is optimized to run on parallel computing and cloud computing.
D. Machine learning does not require explicit coding of decision logic.
Question 4
What is the name of the design thinking work product that contains a summary description of a
particular person or role?

A. persona
B. snapshot
C. My Sticky Note
D. user summary report
Answer:
A
Reference: https://www.interaction-design.org/literature/topics/design-thinking

Question 5
What are two methods used to detect outliers in structured data? (Choose two.)

A. multi-label classification
B. isolation forest
C. gradient descent
D. one class Support Vector Machine (SVM)
E. Word2Vec
Answer:
BD
Reference:
https://www.researchgate.net/post/What-is-the-best-outliers-detection-algorithm-to-
used-for-big- data

Question 6
A classification task has examples that are labeled as belonging to one of two classes:

90% of the examples belong to class-1

10% belong to class-2
Which two techniques are appropriate to deal with the class imbalance? (Choose two.)

A. apply dimensionality reduction to the features before training
B. impose an additional cost on the model for making classification mistakes on the minority class during training
C. lower the detection threshold of the minority class after training
D. oversample the minority class and/or undersample the majority class
E. after training, divide the model accuracy of each class by the proportion that they represent in the dataset
Question 7
What is meant by the curse of dimensionality?

A. The number of available algorithms for a given task is high.
B. The number of available data sources for a given task is high.
C. The data sparsity becomes more severe as the number of features is increased.
D. The data sparsity becomes more severe as the number of samples is increased.
Question 8
The least squares optimization technique (The Method of Least Squares) is used in which algorithm?

A. Support Vector Machines
B. Naive Bayes classification
C. Logistic regression
D. Linear regression
Answer:
D
Reference: https://arxiv.org/ftp/arxiv/papers/1804/1804.05665.pdf

Question 9
What are three elements that are typically part of a machine learning pipeline in scikit-learn or
pyspark? (Choose three.)

A. model building
B. data preprocessing
C. model prediction
D. business understanding
E. use case selection
F. data exploration
Answer:
BCF
Reference:
https://www.analyticsvidhya.com/blog/2019/11/build-machine-learning-pipelines-
pyspark/

Question 10
Which statement is true for naive Bayes?

A. Naive Bayes can be used for regression.
B. Let p(C1 | x) and p(C2 | x) be the conditional probabilities that x belongs to class C1 and C2 respectively, in a binary model, log p (C1 | x) log p(C2 | x) > 0 results in predicting that x belongs to C2.
C. Naive Bayes is a conditional probability model.
D. Naive Bayes doesn't require any assumptions about the distribution of values associated with each class.
Answer:
C
Reference: http://users.sussex.ac.uk/~christ/crs/ml/lec02b.html

Question 11
Select the three computing languages that IBM Cloud Object Storage SDK supports. (Choose three.)

A. Node.js
B. Java
C. PHP
D. Swift
E. Python
F. C/C++
Answer:
ABE
Reference: https://cloud.ibm.com/docs/cloud-object-storage?topic=cloud-object-storage-gs-dev

Question 12
DRAG DROP
What is the best step by step order for machine learning pipeline?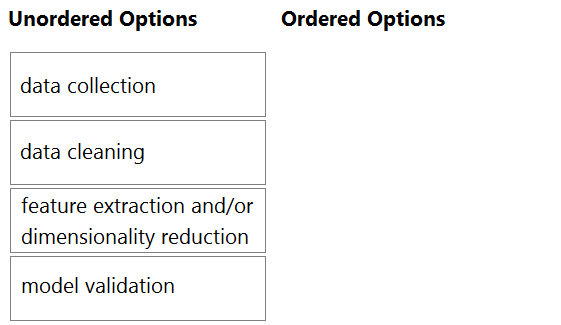 Answer: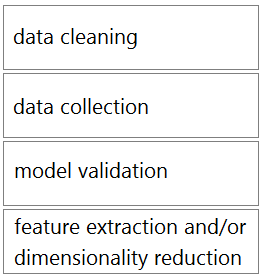 Question 13
What are the various components that make up a time series data?

A. trend, noise, covariance
B. trend, noise, kurtosis
C. trend, seasonality, causation
D. trend, seasonality, noise
Question 14
Considering one ML application is deployed using Kubernetes, its output depends on the data which
is constantly stored in the model, if needing to scale the system based on available CPUs, what
feature should be enabled?

A. persistent storage
B. vertical pod autoscaling
C. horizontal pod autoscaling
D. node self-registration mode
Question 15
Which one is the most appropriate use case for artificial intelligence (AI)?

A. detecting objects in video streams
B. compressing large video files
C. aggregating sales revenue per state
D. creating a pivot table with monthly costs