HP hpe0-v14 practice test
Building HPE Hybrid IT Solutions Exam Exam
Last exam update: Dec 03 ,2023
Page 1 out of 20 Viewing questions 1-15 out of 302
Question 1
DRAG DROP
Match the HPE Tool with its use case. Select all that apply.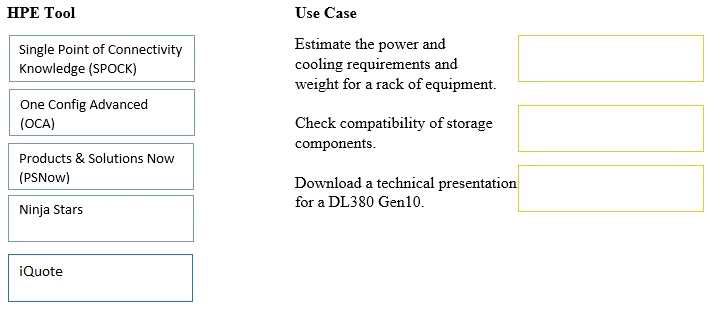 Answer:
None
Explanation:
One Config Advanced (OCA) - Estimate the power and cooling requirements and weight for a rack of
equipment
Single Point of Connectivity Knowledge (SPOCK) - Check compatibility of storage components
Products and solutions Now (PSNow) - Download a technical presentation for a DL380 Gen10

Question 2
A customer has an ESXi server in a branch office They need to perform backups locally. The local
backups must be replicated to the main data center with built-in deduplication
What should the customer install at the branch office?

A. StoreOnce 3100
B. StoreOnce VSA
C. MSA 2042
D. Storevirtual VSA
Question 3
A customer needs to share files among their Microsoft Windows servers cost-effectively and requires
disaster support Which native StoreEasy features win address the customer's need? (select two)
recovery

A. Dual controller architecture
B. DFS-Replication
C. Microsoft Azure support
D. Enhanced data deduplication
E. File classification infrastructure
Question 4
A customer is planning to purchase new MPE rack-mount servers for their data center. The customer
has an exist storage environment and wants to minimize required rack space and local storage.
Which HPE server should they install?

A. ProLiant DL360 Gen 10
B. ProLiant ML350 Gen 10
C. ProLiant DL390 Gen 10
D. ProLiant BL-460C Gen 10
Question 5
A customer needs to centralize their backup environment for their branch office They plan to use HPE
StoreOnce with catalyst
What should they implement within their backups software to minimize the network load on the
remote site?

A. source-side deduplication
B. target-side deduplication
C. thin provisioning
D. native compression
Question 6
A customer plans to purchase five HPE DL380 Gb 2-port 530SFP Ethernet Adapters. The customer's
network administrator has Installed a top of rack 10 GbE switch capable of supporting copper and
optical connections. The customer is already over budget and needs to keep costs down.
Which option should you recommend Tor connecting to the switch?

A. 3m OM3 Fiber Optic Cables
B. 3m Cat 6A Copper Cables
C. 3m Direct Attached Copper Cables
D. 3m OM2 Fiber optic cables
Question 7
DRAG DROP
Place the components on the left in the correct order on the right for the recommended power-up
sequence.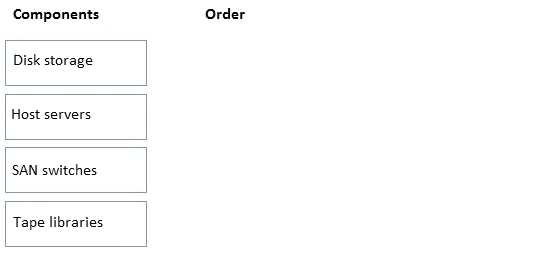 Answer:
None
Explanation:
SAN switches
Tape libraries
Disk storage
Host servers

Question 8
DRAG DROP
Match the industry trend with its use case.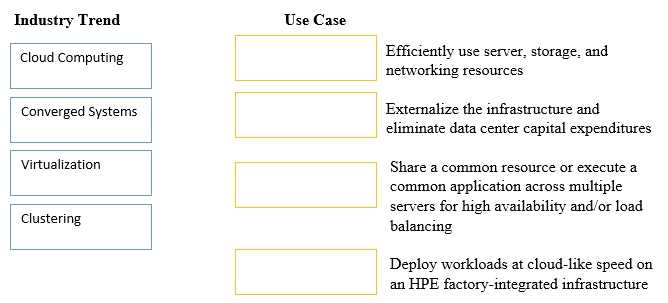 Answer:
None
Explanation:
Efficiently user server, storage, and networking resources Virtualization
Externalize the infrastructure and eliminate data center capital expenditures Cloud computing
Share a common resource or execute a common application across multiple servers for high
availability and/or load balancing Clustering
Deploy workloads at cloud-like speed on an HPE factory-integrated infrastructure Converged
system

Question 9
A customer needs to reconfigure their data center network because their network often becomes
congested, and the customer cannot monitor the network.
How should the customer configure their network?

A. Isolate the management network from production traffic
B. Isolate the SAN on a public network and use a virtual private network (VPN) for secure data
C. Configure IRF on the switches
D. Configure in-band management to manage the switches through gigabit Ethernet ports
Question 10
Which security feature is unique to HPE ProLiant Gen10 servers?

A. Advanced auditing capability in the processor detects suspicious behavior in the kernel?
B. Persistent memory protects virtual machines from compromises in the network fabric
C. Increased application isolation controls network traffic to virtual machines
D. With the silicon root of trust, Gen10 servers can detect compromised firmware
Question 11
A customer is standardized on high-density, rack-mounted servers. They have an application that
requires 3 six-drive RAID6 groups and redundant 10 Gb NICs.
What is the highest-density server that meets these customer requirements?

A. DL580 Gen10
B. DL360 Gen10
C. DL380 Gen10
D. BL460c Gen10
Question 12
You are working on a server, and you notice that the blue UID light on the server is flashing slowly.
What does this indicate?

A. The host server is in standby mode
B. The system is being managed remotely
C. The host has rebooted and is performing POST actions
D. The system is experiencing power issues
Question 13
A customer needs to increase the availability and bandwidth of network connectivity to their servers.
Which switch feature meets the customers needs?
A. Remote direct memory access over Converged Ethernet (RoCE)
B. Virtual Local Area Network (VLAN)
C. Jumbo frames
D. Link Aggregation and Control Protocol (LACP)

Question 14
While troubleshooting a HPE ProLiant Gen10 rack-mount server, you determine that the current and
backup system ROMs are corrupt.
What should be the next step to fix the server?

A. Restore the system firmware from a USB drive
B. Restore the system firmware from a UEFI shell prompt
C. Replace the CMOS battery
D. Restore the system firmware from the iLO repository
E. Replace the system board
Question 15
You are managing a HPE ProLinat rack-mount server and need to determine when the Remote
Console was most recently used.
Where can you find this information?

A. System
B. IML
C. iLO
D. Audit