HP hpe0-s54 practice test
Designing HPE Server Solutions Exam
Last exam update: Dec 04 ,2023
Page 1 out of 7 Viewing questions 1-15 out of 109
Question 1
A customer plans to use RESTful API to deploy their rack of DL380 Gen10 system. How does use of
this protocol support the customer? (Select two.)

A. support multiple scripting languages
B. Secure remote scripting
C. Ability to run scripts against multiple servers
D. Boot via SFTP
E. Boot via HTTP
Question 2
A customer needs a solution to run a read-intensive workload. You propose the following
configuration:
HPE ProLiant DL380 Gen10 server
HPE Smart Array P408-p SR
6 SFF SAS HDD drives
1 SSD drive
RedHat Enterprise Linux 7.0 operating system
The customer needs to lower latency while minimizing investment in new SSD drives.
Which HPE Storage technology most effectively lowers latency of the HDD storage?

A. HPE 12Gb SAS Expander
B. HPE Secure Encryption
C. HPE SmartCache
D. HPE SSD Smart Path
Question 3
A customer has a ProLiant DL-based server solution. The customer is experiencing I/O timeouts on
their SQL data volume running on this solution. Which solution will increase the application
performance?

A. Upgrade memory to 2666 MHz DDR4
B. Upgrade the current processor to a Xeon-Platinum
C. Install an SSD drive and SmartCache license
D. Install an SSD drive to host the log volume
Question 4
Your customer is on the verge of spending $1,2M on a new HPE Synergy 120000 deployment for the
ERP system. Over the next three years they expect to see $600,000 per year in earnings.
What would the ROI be for the given purchase?

A. 10%
B. 20%
C. 50%
D. 75%
Question 5
You need to consolidate multiple BOMs, power requirements, and changing criteria of a Converged
System due to the review of multiple reference architectures on Microsoft Exchange Server 2016.
Which tool should you use?

A. HPE Sizer for Microsoft Exchange Server 2016
B. HPE Converged Infrastructure Solution Sizer Suite
C. HPE Sizer for Server Virtualization
D. Single Point of Connectivity Knowledge (SPOCK)
Question 6
A customer is purchasing a large number of servers for a business critical application. They are
concerned about return to service times and want immediate assistance with critical events.
Which HPE service meets the customers needs?

A. HPE Proactive Service Credits
B. HPE Proactive Care Advanced
C. HPE Proactive Care
D. HPE Foundation Care
Question 7
A customer needs to boot from PXE with IPv6 across the Gen10 servers. Which option must be
enabled to use this feature?

A. UEFI Boot with IPv6 enabled
B. Legacy One-Time boot menu
C. UEFI Secure Boot
D. HPE Intelligent Provisioning with IPv6 DHCP
Question 8
HOTSPOT
A customer temporarily needs to add an additional network connection to a provisioned server that
is being actively managed by OneView. The server is currently powered down. Which top level
option should they click as the first step?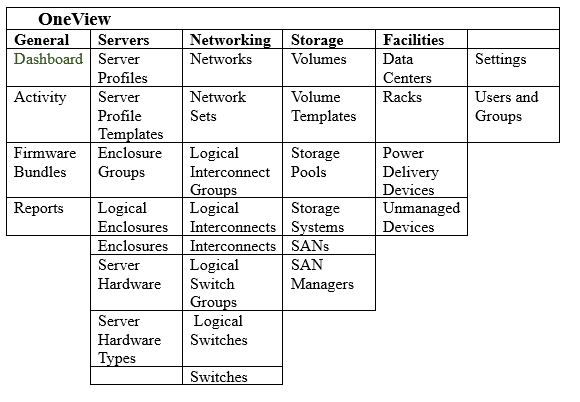 Answer: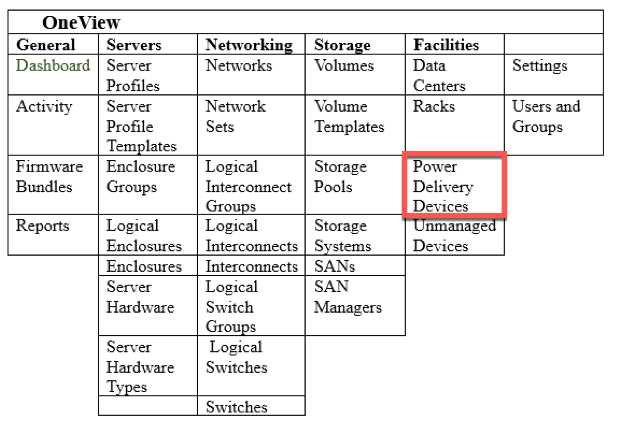 Question 9
A customer has a traditional physical server environment and would like to run an on-site proof of
concept (PoC) to evaluate OneViews ability to manage their ProLiant DL380s and their c7000
blades. What does the customer need to implement this PoC?

A. Synergy composer
B. iLO Amplifier Pack
C. a supported hypervisor
D. Synergy Image Streamer
Question 10
A customer has an existing mission-critical application running on a highly available, non-virtualized
UNIX platform. What should you recommend for support of their business-critical application for
x86?

A. Processor L3 cache
B. Intel Xeon E5 processors
C. Processor hyperthreading
D. Intel Xeon E7 processors
Question 11
A customer wants to streamline firmware and driver management of their HPE Synergy nodes
running VMware hypervisor.
They want to implement HPE Smart Update Tools (SUT). Which of the following options applies to
the solution?

A. HPE Support Pack for ProLiant (SPP) is uploaded to Composer and applied to the profile
B. All VMware updates and drivers are downloaded by HPE OneView
C. ICsp coordinates firmware and driver updates
D. Each server must be booted to the SPP through iLO Console virtual media by the administrator
Question 12
A customer finishes a proof of concept (PoC) evaluation of a DL380 Gen10 system and needs to
securely overwrite all internal system storage and attached hard disks by applying random patterns
in a three-pass process following security guidelines before the system can be redeployed. Which
tool should be used?

A. OneView
B. Smart Storage Administrator
C. Image Streamer
D. Intelligent Provisioning
Question 13
What must a customer consider when adding a connection to a Server Profile Template? (Select
two.)

A. Server Profiles will automatically be refreshed
B. The associated Servers will need to be rebooted
C. Additional Server Profiles will need to be created
D. The associated Server Profiles will be flagged as inconsistent
E. Server Profiles will need to be updated from the template
Question 14
A customer completed a successful Synergy PoC consisting of a single frame with dual composers
and dual Virtual Connect SE 40Gb F8 modules. The customer needs additional frames to allow for
growth. They require 20GB to each compute module.
How may additional frames can be added to the existing logical enclosure?

Question 15
A server consolidation solution must include services other than standard HPE CarePack deliverables.
What should you include in your proposal to provide the customer with an overview of the project?

A. terms and conditions
B. work timeline
C. scope of work
D. billing schedule