Fortinet nse6-fac-6-1 practice test
Fortinet NSE 6 - FortiAuthenticator 6.1 Exam
Last exam update: Dec 02 ,2023
Page 1 out of 2 Viewing questions 1-15 out of 30
Question 1
Which two features of FortiAuthenticator are used for EAP deployment? (Choose two)

A. Certificate authority
B. LDAP server
C. MAC authentication bypass
D. RADIUS server
Question 2
Which behaviors exist for certificate revocation lists (CRLs) on FortiAuthenticator? (Choose two)

A. CRLs contain the serial number of the certificate that has been revoked
B. Revoked certificates are automaticlly placed on the CRL
C. CRLs can be exported only through the SCEP server
D. All local CAs share the same CRLs
Question 3
You are a FortiAuthenticator administrator for a large organization. Users who are configured to use
FortiToken 200 for two-factor authentication can no longer authenticate. You have verified that only
the users with two-factor authentication are experiencing the issue.
What can couse this issue?

A. On of the FortiAuthenticator devices in the active-active cluster has failed
B. FortiAuthenticator has lose contact with the FortiToken Cloud servers
C. FortiToken 200 licence has expired
D. Time drift between FortiAuthenticator and hardware tokens
Question 4
Which two statements about the EAP-TTLS authentication method are true? (Choose two)

A. Uses mutual authentication
B. Uses digital certificates only on the server side
C. Requires an EAP server certificate
D. Support a port access control (wired) solution only
Question 5
When you are setting up two FortiAuthenticator devices in active-passive HA, which HA role must
you select on the master FortiAuthenticator?

A. Active-passive master
B. Standalone master
C. Cluster member
D. Load balancing master
Question 6
Which EAP method is known as the outer authentication method?

A. PEAP
B. EAP-GTC
C. EAP-TLS
D. MSCHAPV2
Question 7
Refer to the exhibit.
Examine the screenshot shown in the exhibit.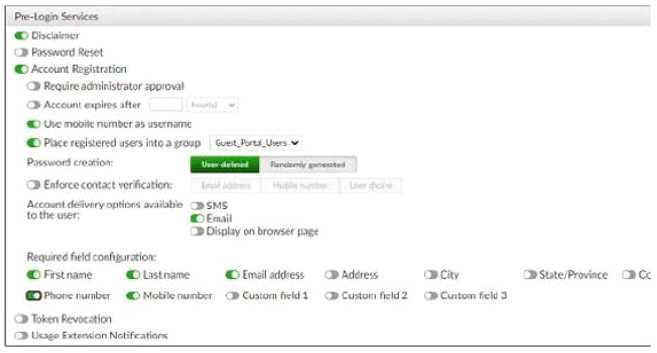 Which two statements regarding the configuration are true? (Choose two)

A. All guest accounts created using the account registration feature will be placed under the Guest_Portal_Users group
B. All accounts registered through the guest portal must be validated through email
C. Guest users must fill in all the fields on the registration form
D. Guest user account will expire after eight hours
Question 8
Which statement about the guest portal policies is true?

A. Guest portal policies apply only to authentication requests coming from unknown RADIUS clients
B. Guest portal policies can be used only for BYODs
C. Conditions in the policy apply only to guest wireless users
D. All conditions in the policy must match before a user is presented with the guest portal
Question 9
Which two capabilities does FortiAuthenticator offer when acting as a self-signed or local CA?
(Choose two)

A. Validating other CA CRLs using OSCP
B. Importing other CA certificates and CRLs
C. Merging local and remote CRLs using SCEP
D. Creating, signing, and revoking of X.509 certificates
Question 10
Which three of the following can be used as SSO sources? (Choose three)

A. FortiClient SSO Mobility Agent
B. SSH Sessions
C. FortiAuthenticator in SAML SP role
D. Fortigate
E. RADIUS accounting
Question 11
You are the administrator of a large network that includes a large local user datadabase on the
current Fortiauthenticatior. You want to import all the local users into a new Fortiauthenticator
device.
Which method should you use to migrate the local users?

A. Import users using RADIUS accounting updates.
B. Import the current directory structure.
C. Import users from RADUIS.
D. Import users using a CSV file.
Question 12
Which two types of digital certificates can you create in Fortiauthenticator? (Choose two)

A. User certificate
B. Organization validation certificate
C. Third-party root certificate
D. Local service certificate
Question 13
What happens when a certificate is revoked? (Choose two)

A. Revoked certificates cannot be reinstated for any reason
B. All certificates signed by a revoked CA certificate are automatically revoked
C. Revoked certificates are automatically added to the CRL
D. External CAs will priodically query Fortiauthenticator and automatically download revoked certificates
Question 14
Which two SAML roles can Fortiauthenticator be configured as? (Choose two)

A. Idendity provider
B. Principal
C. Assertion server
D. Service provider
Question 15
A device or user identity cannot be established transparently, such as with non-domain BYOD
devices, and allow users to create their own credentialis.
In this case, which user idendity discovery method can Fortiauthenticator use?

A. Syslog messaging or SAML IDP
B. Kerberos-base authentication
C. Radius accounting
D. Portal authentication