Fortinet nse5-faz-7-0 practice test
Fortinet NSE 5 - FortiAnalyzer 7.0
Last exam update: Nov 24 ,2023
Page 1 out of 3 Viewing questions 1-10 out of 35
Question 1
What is the purpose of output variables?
A. To display details of the connectors used by a playbook
B. To store playbook execution statistics
C. To save all the task settings when a playbook is exported
D. To use the output of the previous task as the input of the current task
Question 2
Which two statements are correct regarding the export and import of playbooks? (Choose two.)
A. Playbooks can be exported and imported only within the same FortiAnalyzer.
B. You can export only one playbook at a time.
C. A playbook that was disabled when it was exported, will be disabled when it is imported.
D. You can import a playbook even if there is another one with the same name in the destination.
Question 3
Which two statements are true regarding log fetching on FortiAnalyzer? (Choose two.)
A. Log fetching allows the administrator to fetch analytics logs from another FortiAnalyzer for redundancy.
B. A FortiAnalyzer device can perform either the fetch server or client role, and it can perform two roles at the same time with the same FortiAnalyzer devices at the other end.
C. Log fetching can be done only on two FortiAnalyzer devices that are running the same firmware version.
D. Log fetching allows the administrator to run queries and reports against historical data by retrieving archived logs from one FortiAnalyzer device and sending them to another FortiAnalyzer device.
Question 4
Refer to the exhibit.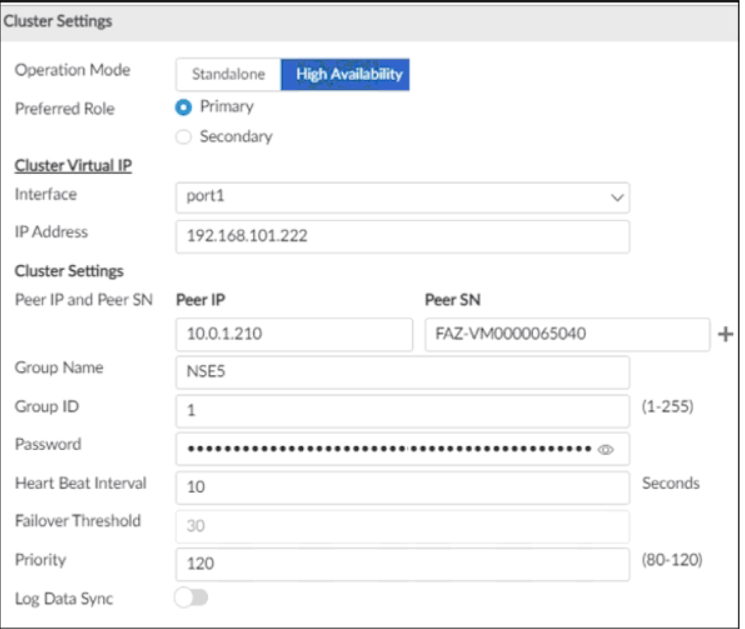 The image displays the configuration of a FortiAnalyzer the administrator wants to join to an existing HA cluster.
What can you conclude from the configuration displayed?
A. This FortiAnalyzer will join to the existing HA cluster as the primary.
B. This FortiAnalyzer is configured to receive logs in its port1.
C. This FortiAnalyzer will trigger a failover after losing communication with its peers for 10 seconds.
D. After joining to the cluster, this FortiAnalyzer will keep an updated log database.
Question 5
Which statement is true regarding Macros on FortiAnalyzer?
A. Macros are predefined templates for reports and cannot be customized.
B. Macros are useful in generating excel log files automatically based on the report settings.
C. Macros are supported only on the FortiGate ADOM.
D. Macros are ADOM specific and each ADOM has unique macros relevant to that ADOM.
Question 6
Refer to the exhibits.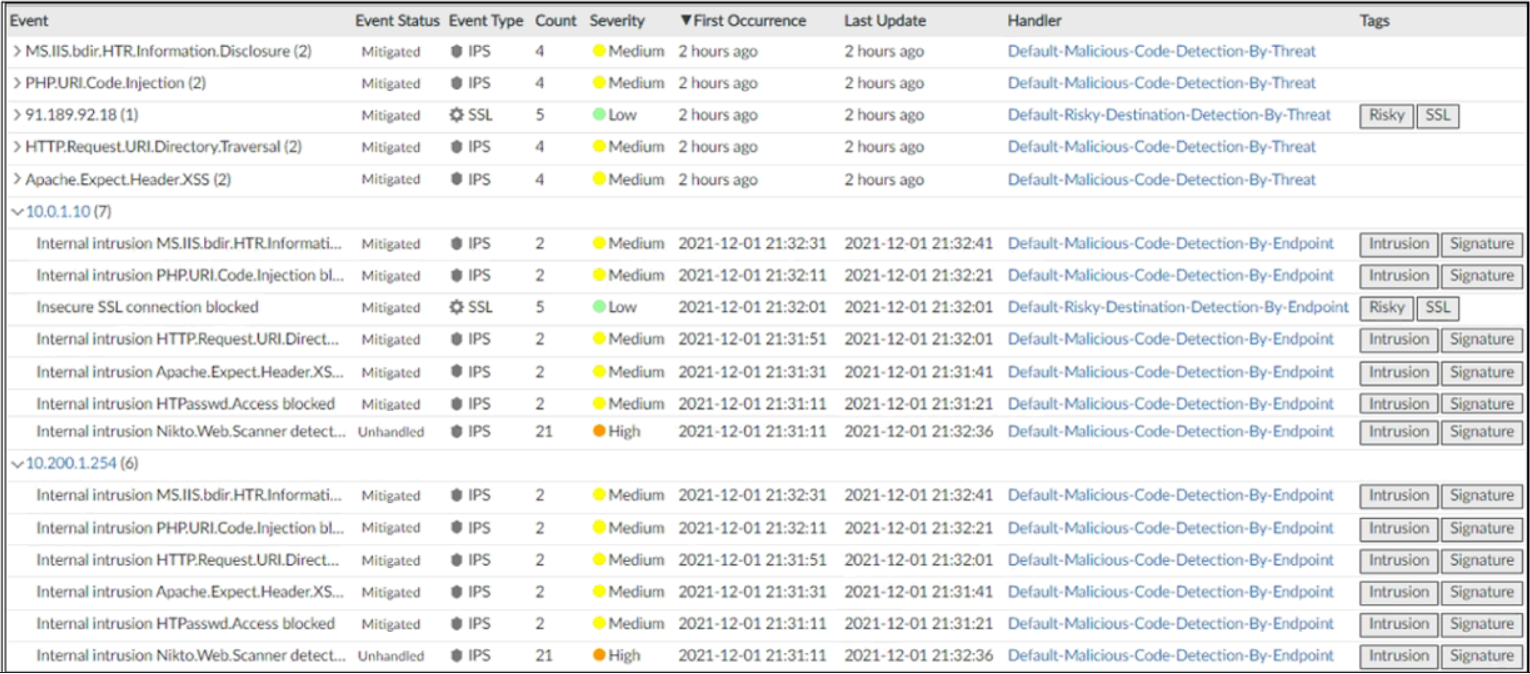 How many events will be added to the incident created after running this playbook?
A. No events will be added.
B. Ten events will be added.
C. Five events will be added.
D. Thirteen events will be added.
Question 7
Which FortiAnalyzer feature allows you to use a proactive approach when managing your network security?
A. FortiView Monitor
B. Threat hunting
C. Incidents dashboards
D. Outbreak alert services
Question 8
Which two statements are true regarding FortiAnalyzer operating modes? (Choose two.)
A. By deploying different FortiAnalyzer devices in both modes, you can improve their overall performance.
B. When in collector mode. FortiAnalyzer collects logs from multiple devices and forwards these logs in the original binary format.
C. When in collector mode. FortiAnalyzer supports event management and reporting features.
D. Collector mode is the default operating mode.
Question 9
Which statement correctly describes the management extensions available on FortiAnalyzer?
A. Management extensions do not require additional licenses.
B. Management extensions may require a minimum number of CPU cores to run.
C. Management extensions allow FortiAnalyzer to act as a FortiSIEM supervisor.
D. Management extensions require a dedicated VM for best performance.
Question 10
Which statement is true about sending notifications with incident updates?
A. You can send notifications to multiple external platforms.
B. If you use multiple fabric connectors, all connectors must have the same notification settings.
C. Notifications can be sent only by email.
D. Notifications can be sent only when an incident is updated or deleted.