Dell EMC e20-562 practice test
Storage Administrators VPLEX Specialist Exam
Last exam update: Dec 03 ,2023
Page 1 out of 4 Viewing questions 1-15 out of 66
Question 1
A storage administrator has been tasked with encapsulating 100 LUNs across five Oracle servers from
an existing array to a VPLEX Metro cluster. The administrator can obtain the same outrage window
for all five servers and wand wants to streamline as much of the encapsulation process possible.
What can the administrator use to help achieve this task?

A. SolVe Desktop utility
B. VIAS Provisioning Wizard
C. Claim Storage Wizard
D. storage-tool compose
Question 2
Which method of virtual volume expansion requires the volume to be expanded on the array first?

A. Extent expansion
B. Storage volume
C. RAID-C expansion
D. Concatenation
Question 3
Which mobility operation must be used to perform storage volume defragmentation?

A. Virtual volume mobility
B. Data mobility
C. Device mobility
D. Extent mobility
Question 4
DRAG DROP
What is the correct order of steps to create a virtual volume?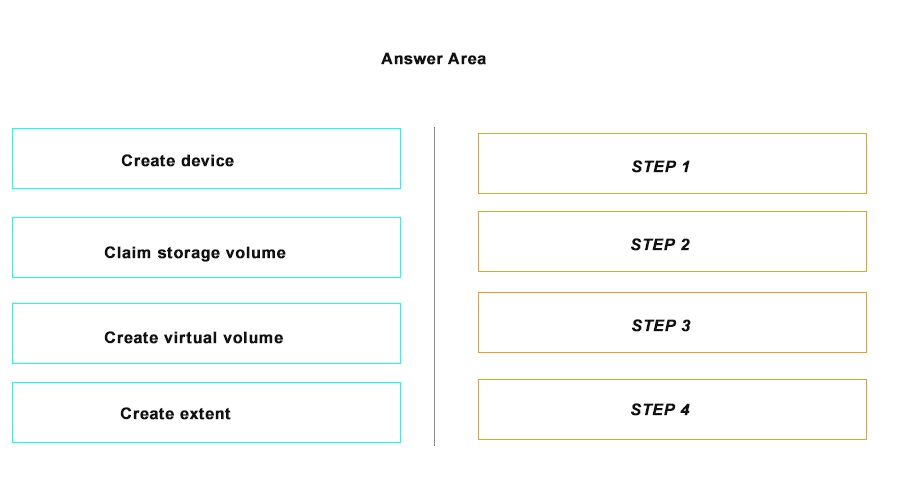 Answer: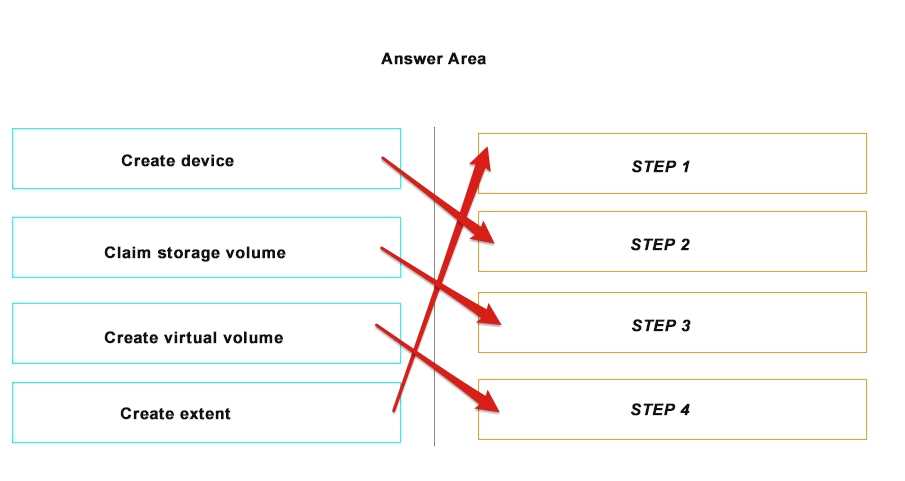 Question 5
What happens to global cache size if a director fails and is removed from the cluster?

A. Suspends
B. Increases
C. Decreases
D. Remains as-is
Question 6
What is a consideration when using VPLEX RecoverPoint enabled consistency groups?

A. Repository volume and journal volumes must be in different consistency groups.
B. Local virtual volumes and distributed virtual volumes can be in the same consistency group.
C. Local copy volumes and production volumes must reside in separate consistency groups.
D. Production and local copy journals must be in different consistency groups.
Question 7
VPLEX Metro has been added to an existing HP OpenView network monitoring environment. The
VPLEX SNMP agent and other integration information have been added to assist in the
implementation. After VPLEX is added to SNMP monitoring, only the remote VPLEX cluster is
reporting performance statistics.
What is the cause of this issue?

A. Local VPLEX Witness has a misconfigured SNMP agent.
B. HP OpenView is running SNMP version 2C, which may cause reporting that does not contain the performance statistics.
C. TCP Port 443 is blocked at the local site's firewall.
D. Local VPLEX cluster management server has a misconfigured SNMP agent.
Question 8
Which VPLEX model is recommended for VPLEX for All Flash (VAF)?

A. VS2 and VS6
B. VS6 only
C. VS2 only
D. VS1
Question 9
Which statement applies to a VPLEX device?

A. Application of a RAID topology to one or more extents
B. An extent from a claimed LUN
C. Claimed LUN from an array
D. Storage presented to one or more hosts
Question 10
What is a valid target for a device data migration in VPLEX?

A. Distributed device
B. Device with no existing virtual volume
C. Device with an existing virtual volume
D. Extent
Question 11
How are physical ports numbered for each I/O module in VS6 VPLEX hardware?

A. Director-A: 0 to 3 from the topDirector-B: 0 to 3 from the bottom
B. Director-A: 1 to 4 from the bottomDirector-B: 1 to 4 from the top
C. Director-A: 0 to 3 from the bottomDirector-B: 0 to 3 from the top
D. Director-A: 1 to 4 from the topDirector-B:1 to 4 from the bottom
Question 12
When using VPLEX Metro, what is the supported round trip time between clusters?

A. 5 ms
B. 15 ms
C. 20 ms
D. 30 ms
Question 13
Refer to the Exhibit:



Which number in the exhibit highlights the Director-A back-end ports?

Question 14
A new VPLEX system has been installed that uses ESRS. The firewall administrator has opened ports
25, 9010, and 5901 between VPLEX and ESRS. A support ticket is logged. While trying to
troubleshoot, the technical support engineer cannot access the GUI of VPLEX.
Which port needs to be opened on the firewall?

A. 21
B. 443
C. 3268
D. 8080
Answer:
B
Explanation:
The VPLEX Management Consoles graphical user interface (GUI) is accessible as a web service on
the management server's public Ethernet port and the service port, using the HTTPS protocol. It is
available on the standard port 443.

Question 15
DRAG DROP
What is the correct order of steps to migrate from an old array to a new one without disruption using
VPLEX?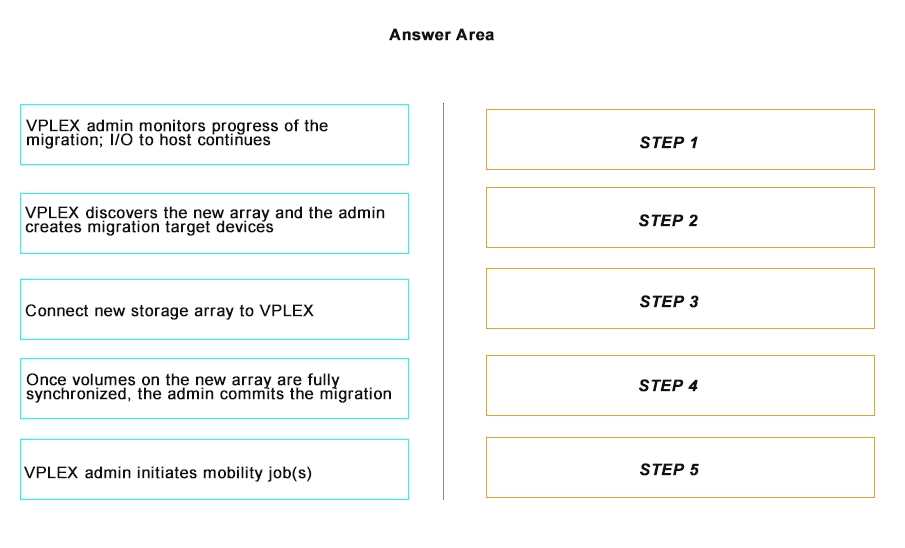 Answer: