Dell EMC des-4421 practice test
Specialist - Implementation Engineer PowerEdge MX Modular Exam Exam
Last exam update: Dec 02 ,2023
Page 1 out of 3 Viewing questions 1-15 out of 54
Question 1
An administrator has installed the iDRAC Service Module in the OS on a compute sled, they are
unable to use its features in the iDRAC web GUI.
What is the likely cause of this issue?

A. OS to iDRAC pass-through feature is not enabled in the iDRAC
B. iDRAC Express license is installed
C. OS and iDRAC are configured on different networks
D. Installed OS is not supported
Question 2
What configuration is supported for a fully populated MX740c compute sled?

A. 1 Fabric B mezz card1 Fabric C mezz card with Fabric A being integrated into the system board
B. 1 Fabric A mezz card1 Fabric B mezz card with Fabric C being integrated into the system board
C. 2 Fabric A mezz cards2 Fabric B mezz cards2 Fabric C mini-mezz cards
D. 1 Fabric A mezz card1 Fabric B mezz card1 Fabric C mini-mezz card
Question 3
Where is a valid storage location for extracting the full MX7000 chassis logs package?

A. VMFS
B. FTP
C. CIFS
D. CSV
Question 4
An administrator is asked to install and power-on a new MX740c sled in an MX7000 chassis. The
administrator inserts the sled and presses the power button. They notice that the power button LED
is blinking green. After a short time power button turns to solid green and the server finally turns on.
What operation was in progress when the power button was blinking green?

A. iDRAC was booting
B. Lifecycle Controller update was in progress
C. Lifecycle Controller was taking firmware inventory
D. iDRAC was updating firmware
Question 5
What automatically opens a support case with technical support and collects the PowerEdge MX
system state information that is required for troubleshooting an issue, then sends it securely to Dell
EMC?

A. OpenManage Essentials
B. SupportAssist Collections
C. OpenManage Enterprise
D. SupportAssist Enterprise
Question 6
Refer to the exhibit.



How many internal server-facing ports are available on this I/O module for the MX7000 chassis?

Question 7
An administrator is configuring a fully populated MX5016s storage sled to be accessed by four
MX740c compute sleds. Each compute sled has an H745P Jumbo PERC installed. The disks in the
storage sled are evenly distributed across all compute sleds using a Drive-Assigned storage
configuration.
What is the maximum number of disks that each compute sled can detect from the MX5016s?

Question 8
A technician has replaced an MX chassis tub. They complete the tub installation and power on the
chassis. They notice that the KVM is no longer functional.
What should the technician do after confirming the KVM feature is still enabled in OME-M?

A. Ensure all cables connecting the tub to the left ear control panel are connected properly
B. Ensure all power supplies are connected and powered-on
C. Ensure all cables connecting the tub to the right ear control panel are connected properly
D. Ensure all installed Management Modules are connected to the network
Question 9
A technician replaces a failed Management Module in an MX7000 chassis group. After the technician
leaves the site, the administrator reports that the lead chassis is no longer able to communicate with
its members.
How can OME-M be used to confirm the cabling configuration?

A. View the health status of the lead Chassis Management Module
B. View the health status of the lead Chassis Management ports
C. View the I/O module topology map from the lead chassis
D. View the topology map from the Group Lead
Question 10
An administrator has been tasked with specifying hardware for a deployment having the following
requirements:
4 node cluster within a single MX7000 chassis
Each node needs a minimum of 6x 2.5 drives
3 TB of memory and 64 physical CPU cores per node
What is the maximum hardware configuration that meets the requirements?

A. MX740c with no storage sleds
B. MX740c with MX5016s storage sleds
C. MX840c with no storage sleds
D. MX 840c with MX5016s storage sleds
Question 11
DRAG DROP
Match the M840c components to the callouts shown in the exhibit.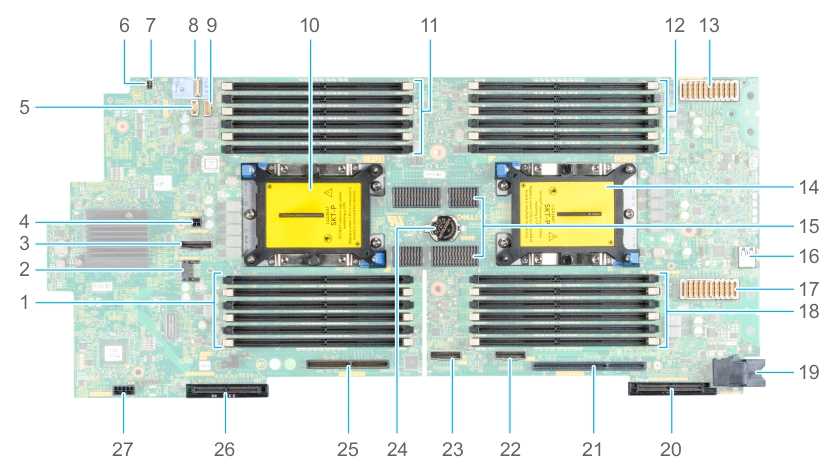 Answer:

Question 12
While servicing an MX7000 chassis a system administrator logs into OME-M and receives a Chassis
Mismatch error.
What should be the next step taken by the administrator?

A. Clear the configuration
B. Reset Peer or the Local IOM
C. Perform firmware update
D. Force Active/Clear configuration
Question 13
What is a function of the Fabric Resources Director (FReD)?

A. SAS Expander routing for Fabric C
B. Hosting OME-M interface
C. Critical temperature monitoring
D. Providing QuickSync 2 feature
Question 14
DRAG DROP
Match each feature with its associated PowerEdge server management tool.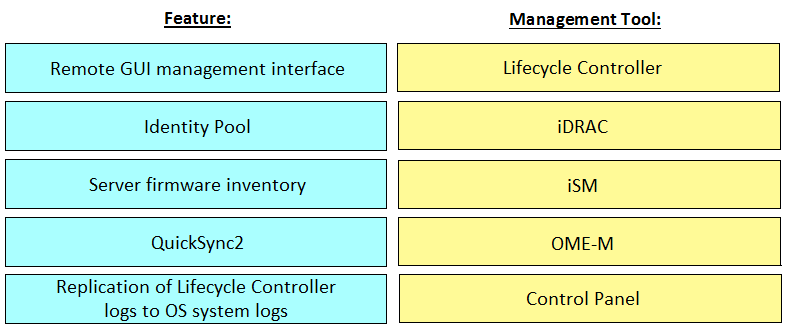 Answer: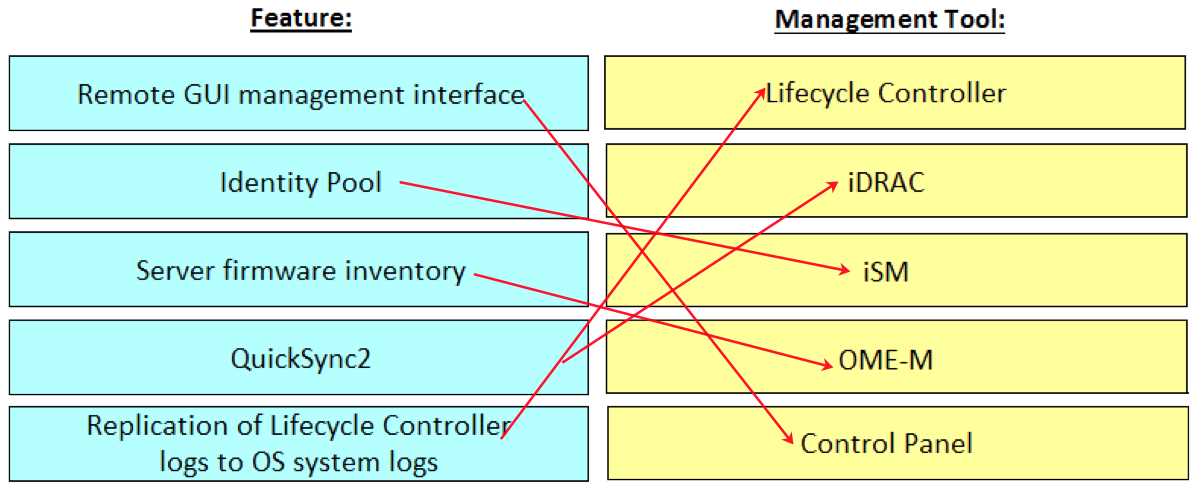 Question 15
DRAG DROP
An administrator is using the OME-M GUI to change the hostname on an unconfigured I/O module
inserted in slot A1. They log on to the MX7000 chassis home page.
What is the correct order of steps the administrator should take to set the management IP address?


Answer: