Dell EMC des-1b21 practice test
Implementation Engineer, Elastic Cloud Storage (ECS) Exam
Last exam update: Nov 27 ,2023
Page 1 out of 4 Viewing questions 1-15 out of 66
Question 1
In the Storage Service Layer, which distributed shard service runs on each ECS node to mange
transactions and ensure data is committed?

A. Unstructured Storage Engine
B. Server-side encryption
C. Erasure coding
D. ECS meta-data management
Question 2
Which command is used to update the here switch firmware?

A. updateArista
B. flashboot
C. firmwaredownload
D. update firmware
Question 3
A company has removed the VDC from the replication group and is no longer able to add it back.
What is the cause of this issue?

A. The same cannot be added back to the replication group; it must be given another name
B. The VDC cannot be added back to the existing replication group: a new replication group must be created for the VDC
C. The same VDC can be added back to the replication group; but only before failover processing is completed successfully
D. Removing the VDC from the replication group initiates failover processing for permanent failures
Question 4
You are configuring an ECS system to be used for private cloud storage in a Data Domain Cloud Tier
environment. You want to enable higher storage efficiency for archival data in the storage pool to
support the backup solution.

A. 8 nodes per storage pool Cold Storage pool
B. 4 nodes per storage pool Federated VDC
D. 8 nodes per storage pool Dedicated namespace
E. 4 nodes per storage Global replication group
Question 5
Which port needs to be opened between ECS and ESRS for registration of remote support?

A. 21
B. 3218
C. 9020
D. 9443
Question 6
What is a correct statement concerning the use of ECS as an LTR solution with DD Cloud Tier?

A. There can be up to four cloud units that make up the cloud tier
B. Backups are cloned to the cloud tier via the app-based policy
C. Mission critical applications are backed up first to the DD cloud tier
D. Data is moved directly from the active to ECS
Question 7
DRAG DROP
What is the correct order of steps used to create a VDC federation?


Answer: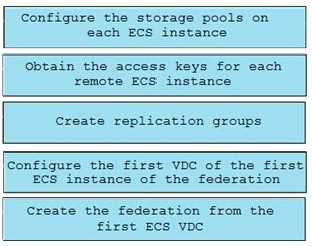 Explanation:
Reference: https://www.emc.com/collateral/TechnicalDocument/docu88135.pdf (36)

Question 8
An ECS is configured as backend storage for OpenStack Glance. Which type of data will it store?

A. OpenStack Swift client access information
B. Disk and server images
D. Volume data backups
E. Multimedia files
Question 9
When planning for a multi-site ECS installation, what is the maximum network latency between
sites?

A. 100 ms
B. 500 ms
C. 1, 000 ms
D. 5, 000 ms
Question 10
A storage administrator asks you if ECS requires the use of file gateways for Hadoop dat
a. What should be your response?

A. Yes; ECS comes with a file gateway that automatically moves the data to the ECS
B. Yes; ECS acts as a file gateway
C. No; ECS has a built-in tool to move data into HDFS
D. No; ECS does not require file gateways
Question 11
A newly configured ECS system contains 8 nodes. How many fragments will each ECS node contain
when a data chunk is broken up by erasure coding?

Question 12
How do ECS object users authenticate to the ECS OpenStack Swift Service when running the Version 1
protocol?

A. PEA file
B. Login and password
C. Scoped token
D. Simple token
Question 13
Which user role has access to all areas of the ECS portal?

A. System Administrator
B. Namespace Administrator
C. Tenant Administrator
D. Power user
Question 14
How are files locked by ECS with NFSv3 enabled?

A. ECS runs pNFS as does any NFSv4 server
B. ECS globally locks files from any node at any site
C. The NFSv3 clients do file locking
D. ECS runs NLM as does any NFSv3 server
Question 15
By default, which file contains ECS information for configuring ESRS?

A. provision.txt
B. topology.txt
C. customer.json
D. MACHINES