Dell EMC des-1241 practice test
Specialist - Platform Engineer, PowerStore Version 1.0 Exam
Last exam update: Dec 03 ,2023
Page 1 out of 6 Viewing questions 1-15 out of 96
Question 1
In which step of the ICW can the configuration details be exported?

A. License Configuration
B. Support Assist
C. Cluster Details
D. Cluster Configuration
Question 2
When a Dell EMC PowerStore node powers up in service mode, what are the commands and
sequence used from the appliance SSH client to restore the node back to normal?
A.
svc_rescue_state clear
svc_node reboot
B.
svc_node restart
svc_rescue_state start
C.
svc_rescue_state normal
svc_node start
D.
svc_node shutdown
svc_rescue_state clear

Question 3
Refer to the exhibit.



Which column indicates the master appliance?

A. IP Address
B. Model
C. Service Tag
D. Mode
Question 4
What is achieved when the Rapid Spanning Tree Protocol (RSTP) is enabled on a Dell EMC
PowerStore network configuration?

A. Redundant connectivity between data switches
B. Communication between data switches and management switch on PowerStore T
C. Management between appliance and vCenter on PowerStore X
D. Fault tolerance between appliances in a PowerStore cluster
Question 5
How is a service laptop IP configured to connect to the Service LAN port of a Dell EMC PowerStore
node?

A. Static IP: 128.221.1.249 and netmask: 255.255.255.0
B. Obtain IP address from DHCP on PowerStore
C. Static IP: 169.254.1.249 and netmask: 255.0.0.0
D. Leave IP address and netmask unconfigured
Question 6
What is a step in configuring the ToR data switches for a Dell EMC PowerStore T?

A. Configure a port for the discovery laptop
B. Create VLANs for NAS servers
C. Create VLAN for vMotion networks
D. Configure ports for management on native VLAN
Question 7
What safety equipment is critical to have on hand to avoid equipment failure before replacing any
components in a Dell EMC PowerStore array?

A. Maintenance Kit
B. ESD Kit
C. Stabilization Kit
D. Rail Kit
Question 8
Which account credentials are needed to run diagnostic commands?

A. root
B. service
C. console
D. admin
Question 9
What describes Dell EMC PowerStore heat dissipation?

A. X systems have higher heat dissipation specifics than T systems
B. Higher model numbered systems have lower heat dissipation specifications than lower model numbered systems
C. T systems have higher heat dissipation specifics than X systems
D. Lower model numbered systems have lower heat dissipation specifications than higher model numbered systems
Question 10
Which experienced administrator role needs to address a warning about configuring VLTi?

A. Storage
B. VMware distributed switch
C. Network
D. NAS
Question 11
DRAG DROP
Order the NDU operational steps.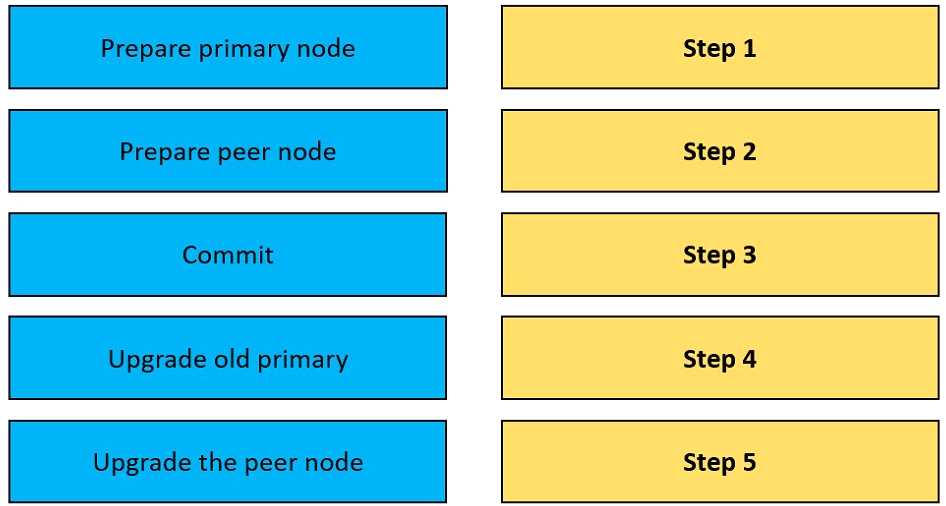 Answer:
None
Explanation: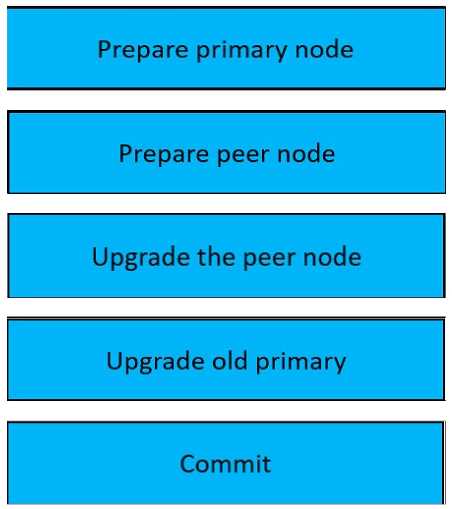 Question 12
DRAG DROP
Match the base enclosure SAS ports in column A to their corresponding expansion LCC ports in
column B; when connecting a PowerStore base enclosure to a single expansion enclosure.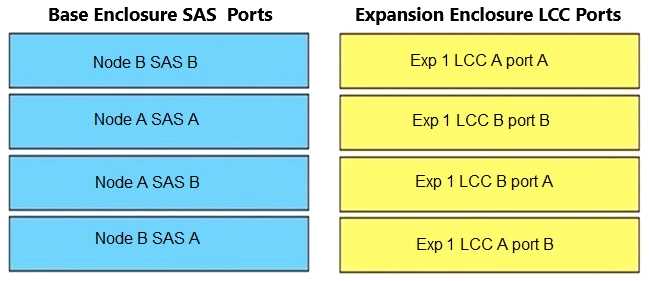 Answer: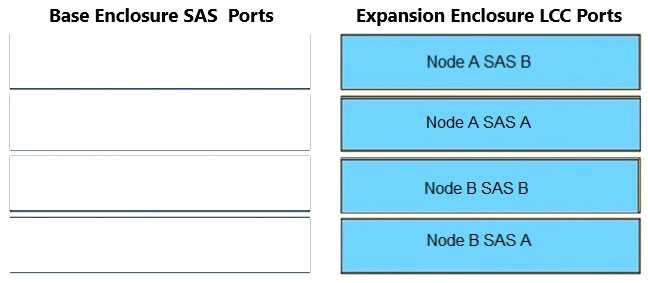 Question 13
Which component is an FRU?

A. DIMMs
B. Embedded IO Module
C. Nodes
D. Battery Backup Unit
Question 14
A Storage Administrator has an existing single appliance Dell EMC PowerStore 3000T cluster. An
additional PowerStore 9000T has been purchased to add into the existing cluster.
How does the administrator proceed?

A. Additional VLTi links on the ToR switching must be configured for the 9000T to support the increased inter-switch network load
B. Add the new 9000T appliance into the cluster per the procedure; mixed models of the same type are supported
C. Remove two of the four NVMe NVRAM drives from the 9000T the caching configuration of all clustered appliances must match
D. The new appliance cannot be added to the cluster; appliance model and type must match when clustering appliances together
Question 15
A Storage Administrator needs to address specific fixes within their Dell EMC PowerStore system.
Which NDU software upgrade option is used for this situation?

A. Hotfixes
B. vCenter
C. Drive firmware
D. Software releases