Dell EMC des-1111 practice test
Specialist - Technology Architect, PowerMax and VMAX All Flash Solutions Exam Exam
Last exam update: Dec 03 ,2023
Page 1 out of 4 Viewing questions 1-15 out of 60
Question 1
DRAG DROP
An architect is configuring BCSD to design SRDF/S between two new PowerMax arrays. The architect
has completed the tasks for the local side of the solution, including RA Port Group, Replication
Group, and site switch.
What is the correct order of steps the architect needs to take to complete the SRDF setup?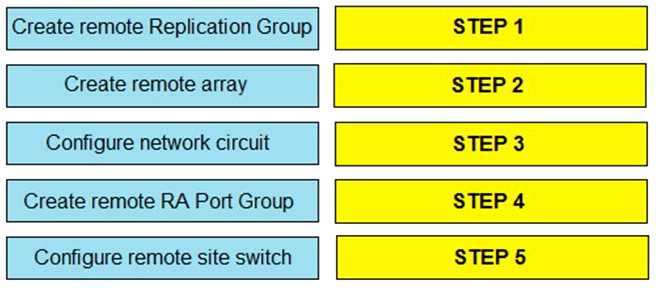 Answer:
None
Explanation: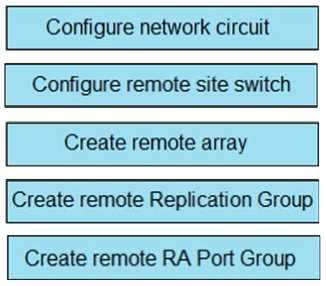 Question 2
When implementing SRDF/Metro with Array Witness, what is a requirement of the witness array?

A. Empty RDF group from witness to source and target
B. vApp running on a VMware ESXi server
C. Minimum of two witness arrays
D. Two RDF groups with source and target devices
Answer:
D
Explanation:
Reference:
https://www.delltechnologies.com/asset/en-us/products/storage/technical-
support/docu95482.pdf
(64)

Question 3
A storage administrator uses Unisphere for PowerMax to provision new storage from a VMAX All
Flash array. Which Workload Type is recommended for a combination of small and large block I/O
workloads?

A. DSS
B. Optimized
C. OLTP
D. None
Answer:
D
Explanation:
Reference
https://docs.openstack.org/cinder/train/configuration/block-storage/drivers/dell-emc-powermax-driver.html

Question 4
What is a characteristic of a Secure Snapshot?

A. Administrators are only able to delete a Secure Snapshot before its expiration date
B. The Secure Snapshot remains secure after its expiration date, as long as it is linked
C. Administrators can only extend the expiration date before the Secure Snapshot expires
D. The Secure Snapshot can be converted to a traditional snapshot
Answer:
B
Explanation:
Reference:
https://www.dell.com/support/kbdoc/en-pk/000158251/how-to-secure-a-snap-vx-
snapshot-with-vmax-management-software

Question 5
How many hosts are supported by PowerPath and PowerPath/VE in the FX software package?

A. 50
B. 75
C. 100
D. 125
Answer:
B
Explanation:
Reference:
https://www.dell.com/community/PowerPath/PowerPath-VE-for-VMAX-FX-Software-
Package/td-p/7133133

Question 6
An architect uses the following command to collect data from a HP-UX host when designing a
solution in BCSD:
sar d b interval count >> hostname.sar.date.txt
What does the b flag in the command represent?

A. Block
B. Binary
C. Break
D. Buffer
Question 7
What happens to the space used for SnapVX delta tracks that are unique to a terminated snapshot?

A. Not returned to SRP until the –force fag is used
B. Not returned to SRP until all generations are terminated
C. Returned to SRP only if it is mentioned explicitly
D. Returned to the SRP by default
Question 8
The Reserved Capacity for a Storage Resource Pool (SRP) on a VMAX All Flash array is set to 15%. A
TimeFinder SnapVX snapshot is created for a Storage Group containing 10 devices. An application is
actively performing read and write I/O to these devices. Allocation for the SRP reaches 85%.
What happens to the snapshot?

A. Snapshot persists but new snapshot deltas cannot be created
B. Snapshot fails
C. Snapshot deltas are allocated from the Reserved Capacity
D. Snapshot terminates
Answer:
D
Explanation:
Reference:
https://www.dell.com/support/kbdoc/en-pk/000066341/vmax3-storage-resource-pool-
srp-threshold-alert

Question 9
Which director emulating performs internal array operations and provides data services?

Question 10
A storage architect is demonstrating to a customer how they can register vCenter and ESXi servers,
view all relevant storage related objects of an ESXi server, and troubleshoot storage performance.
Which system view in Unisphere can be used to do these things?

A. vSphere
B. VMware
C. Hosts
D. vCenter
Question 11
Which legacy modes are supported in TimeFinder SnapVX?

A. Clone, VP Snap, and Snap
B. Mirror, Replicate, and Clone
C. Mirror, Replicate, and VP Snap
D. Mirror, Clone, and VP Snap
Answer:
D
Explanation:
Reference:
https://infohub.delltechnologies.com/l/dell-emc-powermax-and-vmax-all-flash-
timefinder-snapvx-local-replication-1/interoperability-between-native-snapvx-and-legacy-
timefinder-modes

Question 12
Refer to the exhibit.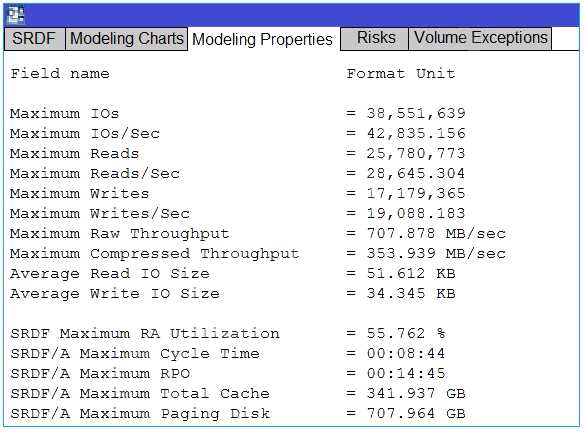 An SRDF/A solution with BCSD is designed and the results are shown in the exhibit. A customer
requirement was a five-minute RPO. In the exhibit shown, the RPO is above the customer
requirement.
How can the five-minute RPO requirement be met?

A. Increase DSE capacity
B. Provide more bandwidth
C. Increase number of RA ports
D. Increase cycle time
Question 13
At a disaster planning meeting, an architect is presented with the following facts by a client:
A Unix host is replicating storage from a Production PowerMax to a VMAX 250FX.
RDF pairs have been split with Production and DR hosts accessing their respective storage.
Invalid tracks have started to build against PowerMax and VMAX 250FX.
The client now wants to bring production back to PowerMax, discarding the VMAX 250FX updates
while keeping the updates on the PowerMax. What is the correct action to take?

A. Failback
B. Establish
C. Resume
D. Failover
Question 14
A storage architect is evaluating the performance of a PowerMax array during business hours. They
want to know how much extra load the PowerMax can handle without significant performance
degradation. The Workload Planner is used to identify the hot spots during the recurring backup
windows.
Between 9:30 PM and 1:30 AM and between 3:15 AM and 5:30 AM, backups are causing the
PowerMax to exceed the best practice recommendation. The Recurring System Data Exclusion
Periods chart is used to filter out these hot spots. After running this workload planning for a few
weeks, they notice that the selection of records they previously made are showing different numbers
than when they started viewing the report, several weeks ago.
What is the explanation for this behavior?

A. After a week the data of each time slot is refreshed with new data
B. After two weeks the 84 data points are filled up and the report resets to default
C. The average of the viewed window has dropped below the best practice
D. After two weeks the data of each time slot is refreshed with new data
Question 15
A storage administrator is provisioning storage on a PowerMax 2000 array. The application requires
fast reads and the highest possible data protection.
Which RAID level should be recommended?

A. RAID 6 (6 + 2)
B. RAID 5 (3 + 1)
C. RAID 6 (14 + 2)
D. RAID 5 (7 + 1)
Answer:
B
Explanation:
Reference:
https://www.delltechnologies.com/asset/en-us/products/storage/technical-
support/h16891-powermax-family-ds.pdf