Dell EMC dea-41t1 practice test
PowerEdge Associate Exam
Last exam update: Dec 03 ,2023
Page 1 out of 4 Viewing questions 1-15 out of 60
Question 1
Based on the exhibit,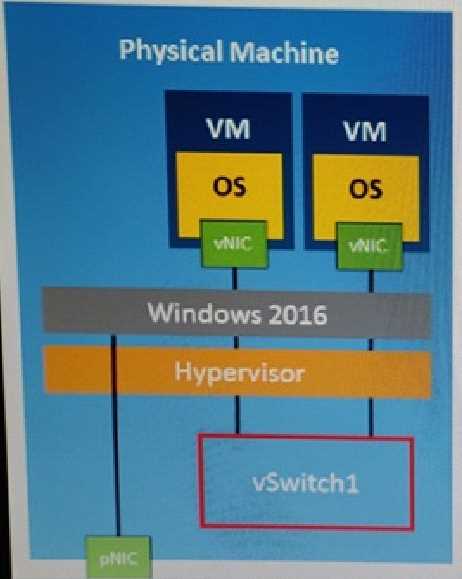 Which type of virtual switch is vswitch1?

A. External
B. Open
C. Private
D. Public
Question 2
A General GPU (GPGPU) is commonly install in Dell EMC PowerEdge servers. Which component does
a GPGPU complement when processing tasks?

A. iDRAC modules
B. Memory
C. Network Interface Cards
D. CPU
Question 3
Which RAID level requires minimum of four hard drives?

A. RAID 0
B. RAID 1
C. RAID 5
D. RAID 6
Answer:
D
Reference:
https://www.enterprisestorageforum.com/sans/features/article.php/3855631/RAID-Storage-Levels-
Explained.htm

Question 4
What is an example of a dedicated server?

A. Virtual Switch server
B. Clustered server
C. Database server
D. Secure Shell server
Question 5
What benefit is offered by modular servers over rack servers?

A. Lower power requirements result in lower datacenter operating costs.
B. Higher density is achieved in reducing the amount of consumed rack space
C. Host replacement of any sever in the enclosure is possible
D. All hardware technology is integrated into a single circuit board
Answer:
B
Reference:
https://www.racksolutions.com/news/data-center-optimization/blade-server-vs-rack-server/

Question 6
What is a characteristic of server and user authentication?

A. Server does not need to know exactly who is accessing the information or for authentication.
B. Authentication uses logs to determine tasks each individual perform and which files the user is accessing
C. Authentication is commonly implemented through login ID and private and public networks.
D. User does not need to provide their identify to the server of the client for authentication
Question 7
Which RAID level has the lowest overhead of all RAID types?

A. RAID 0
B. RAID 1
C. RAID 5
D. RAID 6
Answer:
A
Reference:
http://www.raid-calculator.com/raid-types-reference.aspx

Question 8
A system administrator is configuring the file transfer role of a server. Important data needs to be
accessed by end users. Which file transfer service provides secure transfer of the data?

A. SNMP
B. FTP
C. SFTP
D. TFTP
Question 9
What is the primary reason for a server emitting a greater heat load than a client system?

A. Smaller system fans in the servers
B. Higher temperature in the data center
C. Less space for air to circulate inside the server chassis
D. Increased power usage of the server components
Question 10
DRAG DROP
A customer needs to access webmail on a laptop. Using a browser, they type in the URL and the page
display correctly. What is the correct of stops used to load the webpage?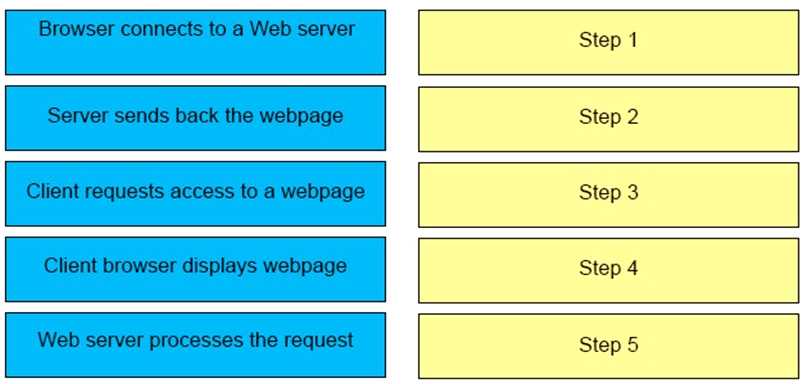 Answer: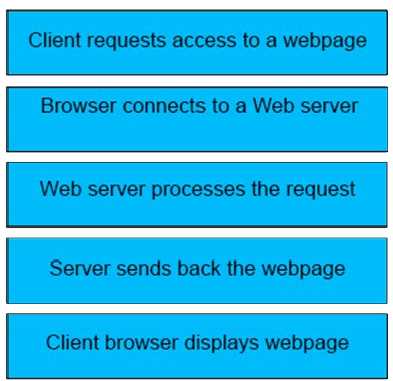 Question 11
Refer to the exhibit.


An administrator has a standalone M1000e chassis with only a single CMC module. The CAT6 cable is
plugged into the Ethernet port closest to the DB-9 connector. The power indicator light is lit but the
administrator is unable to access the CMC module.
What could be the cause of this issue?
A. No DB-9 cable is plugged in
B. CMC module was removed without powering of the chassis
C. CAT6 cable plugged into the king port
D. CAT5 cable required for connection to CMC

Answer:
C
Explanation
Each CMC has two RJ-45 Ethernet ports, labeled GB (the uplink port) and STK (the stacking or cable
consolidation port). With basic cabling, you can connect the GB port to the management network
Connecting the STK port to the management network can
have unpredictable results. Cabling GB and STK to the same network (broadcast domain) can cause a
broadcast storm.
//topics-cdn.dell.com/pdf/poweredge-m1000e_owners-manual_en-us.pdf
Question 12
Which error control technique is used by ECC memory?

A. Repetition codes
B. Hamming code
C. Checksums
D. Cryptographic hash functions
Answer:
B
Reference:
https://en.wikipedia.org/wiki/ECC_memory
https://www.guru99.com/hamming-code-error-correction-example.html

Question 13
Based on the exhibit, Grid Redundant Mode is selected on a Dell EMC PowerEdge server and the Hot
Spare feature is disabled. How is the power output distributed in a dual-power supply configuration?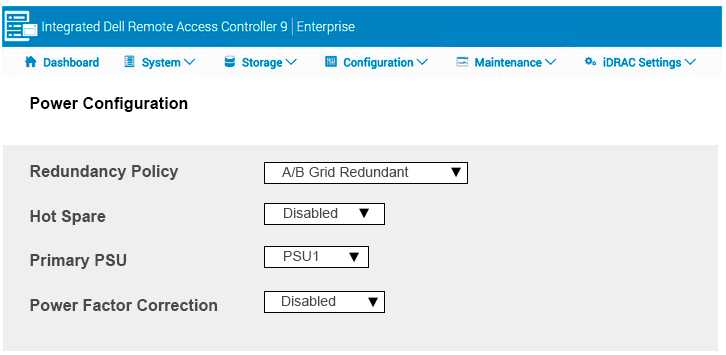 A. Equally across both power supplies
B. Only one supply waver provides power
C. Power supply 2 only provides output power supply 1 reaches maximum capacity
D. Majority of the output is always provided by power supply 1
Question 14
Why is Error Correcting Code (ECC) memory beneficial in Dell EMC PowerEdge servers?

A. Provides a separate memory management scheme for memory operation
B. Creates redundancy by mirror physically installed memory
C. Can present more memory than is physically installed
D. Can repair errors without interrupting other server operations
Question 15
What is the maximum amount of hard drives request per RAID set, when configure RAID 50?