cisco 840-450 practice test
Mastering the Cisco Business Architecture Discipline
Last exam update: Dec 02 ,2023
Page 1 out of 5 Viewing questions 1-15 out of 66
Question 1
Which two statements about customer journey mapping are true? (Choose two.)

A. It helps you to identify how to re-engineer existing business processes to support the target state of the business.
B. It helps you to identify the customer organization model.
C. It describes the business value chain.
D. it helps you to identify the required new business processes and capabilities to support the target state of the business.
E. It provides all the details necessary for a cost breakdown regarding the customer project implementation.
Question 2
DRAG DROP
Consider the four building blocks of the BMC that are directly linked to the customer segment. Drag and drop the four correct
building blocks from the left to the right. Not all options are used.
Select and Place: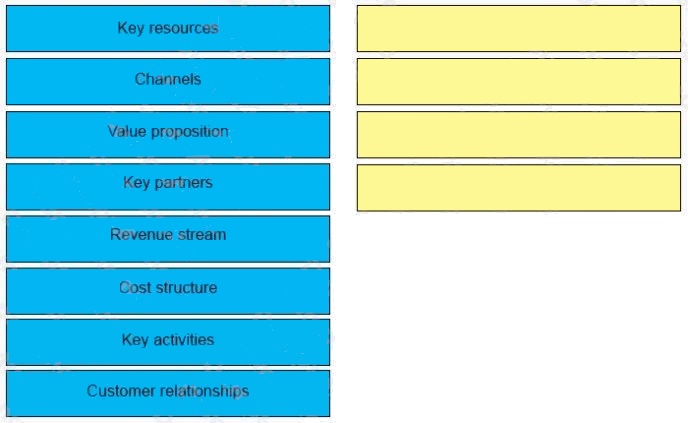 Answer: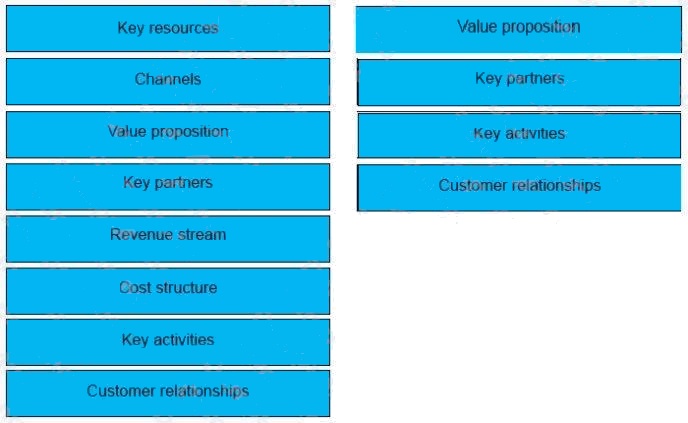 Explanation:
Value proposition
Key partners
Key activities
Customer relationship

Question 3
Which two real world examples for an external business influence are true? (Choose two.)

A. A bank has decided to invest in a new business solution for retail banking.
B. A state health department has mandated the use of closed-loop medication administration to all state hospitals.
C. A manufacturer is streamlining current manual processes in the warehouse for automation purposes.
D. The CMO has indicated they should develop new business capabilities for their Business Delivery Services department.
E. A bricks and mortar retailer is introducing their online retail capability to compete with online rivals.
Question 4
You are in the Research and Analyze phase of a business architecture engagement with a public sector customer. You have
access to the corporate organization chart and are identifying the relevant customer audience.
Which tool helps when you consider power, influence, fears, support, and interest factors?

A. RACI chart
B. stakeholder analysis grid
C. seven elements framework
D. business scenario
Question 5
You use the operating model canvas to expand which part of the business model canvas?

A. bottom
B. right side
C. top
D. left side
Answer:
D
Explanation:
Reference: https://www.stratexhub.com/stratex-hub/operating-model-canvas

Question 6
A customer wants to invest in a reliable network, data center, and collaboration solution with no ROI investigation.
Which engagement maturity level is appropriate for this customer?

A. Partial business engagement
B. Business-first engagement
C. Multi-domain engagement
D. Domain-specific engagement
Question 7
What are two the two best times to create a capability gap analysis? (Choose two.)

A. during the Research and Analyze phase of business focus
B. during the Develop and verify phase of business focus
C. during the Design phase of technical focus
D. during the Discover phase of technical focus
E. after you complete the BMC
Question 8
Which tool do you use to establish a process for communication planning?

A. Value Proposition Canvas
B. Seven Elements Framework
C. Business System Model
D. Business Proposal
Question 9
Which tool helps you to reduce the complexity and costs of implementing a full ITSM capability?

A. lean consumption model
B. business process mapping
C. job mapping
D. lean service blueprint
Question 10
An engagement at the business solutions maturity level addresses which customer question?

A. How do I measure the business impact of technology investments?
B. How do I transform my business capabilities?
C. How do I facilitate innovation as a service by fast-tracking technology enablement?
D. What are the benefits of a multidomain data center and collaboration architecture?
Question 11
Which architecture considers cost and lifecycle management?

A. technology architecture
B. information architecture
C. business architecture
D. implementation architecture
Question 12
Which two scenarios does business systems modeling address? (Choose two.)

A. consumption and speed of replenishment of new business systems
B. to model the various systems that are associated with an organization
C. exchange of information between different events IT systems that the organization relies on
D. consumption model that ensures that customers get what they want, at the value they want, and when they want it
E. helping organizations define what they do
Question 13
Which two statements about a business roadmap are true? (Choose two.)

A. It provides a high-level, multiyear strategic plan for transforming the business.
B. It identifies the relationship between the business stakeholders and business drivers.
C. It is based on the business model canvas template.
D. It includes a business strategy value map and a customer journey map.
E. It maps all key solutions that are linked to business goals and prioritizes the execution of each solution.
Question 14
What is the definition of a business priority?

A. a measurable result of an activity or process within the business
B. an important business initiative that enables the business to transition to the target state
C. the result of an analysis of political, economic, social, technology, legal, or environmental factors
D. a factor that acts as the catalyst for growth in the areas that are most important to the business
Question 15
DRAG DROP
You are developing a customer journey map. Drag and drop each customer touch point on the left to the correct touch point
type on the right.
Select and Place:

Answer: