Avaya 33820x practice test
Avaya Aura Call Center Elite & Elite Multichannel Solution Design Exam Exam
Last exam update: Dec 03 ,2023
Page 1 out of 4 Viewing questions 1-15 out of 64
Question 1
A customer needs to integrate a network of call centers for better load balancing and optimal agent
utilization. They also need to monitor the status of the specified resources and adjust call processing.
This would enable the system to compare the specified skills, identify the skill that provides best
service to a call, and deliver the call to an agent in the skill. If no agents are available in the skill, the
call is queued.
Which Avaya Aura Call Center Elite feature would you recommend to this customer?

A. Advanced Call Vectoring
B. Expert Agent Selection
C. Best Service Routing
D. Business Advocate
Question 2
With the pre-built Virtual Private Clouds (VPCs) of Avaya OneCloud ReadyNow, Avaya is providing a
robust foundation for enterprise cloud deployments. Each VPC Is built as a dedicated software image
of Avaya's market leading Contact Center solutions.
What Is the default VPC hardware and software configuration?

A. Dedicated hardware and shared software
B. Shared hardware and shared software
C. Shared hardware and dedicated software
D. Dedicated hardware and dedicated software
Question 3
Refer to the exhibit.



In this example, the target market is enterprise contact centers and general enterprise telephony
customers who are implementing CTI applications with Communications Manager.
Which open standards-based solution runs on a Linux server, is tightly integrated with a
Communication Manager and Elite Multichannel solution, and is missing from this diagram?

A. Avaya Aura® Session Manager
B. Avaya Aura® Session Border Controller
C. Avaya Aura® Application Enablement Services
D. Avaya Aura® Media Server
Question 4
A customer requires a Call Center feature that will provide the following:
A routing algorithm to manage agents, call volumes, service levels, and predict call wait time
As agents become available, select the next contact based on defined business objectives to meet
service levels across the enterprise.
To meet these requirements, which Call Center Elite feature would you recommend?

A. Advanced Call Vectoring
B. Business Advocate
C. Best Service Routing
D. Expert Agent Selection
Question 5
Avaya OneCloud - Public Delivery leverages Avaya UC and CC technology and solutions for a seamless
transition to the cloud. Which two options are available with Avaya OneCloud - Public Delivery?
(Choose two.)

A. IX™ Orchestration
B. IX™ Contact Center
C. IX™ Workforce Engagement
D. IX,H Workplace
Question 6
The Cloud Operations team is dedicated to Avaya OneCloud ReadyNow, and handles the service
performance MACDs, reporting, billing, ordering, etc., as Avaya grows the Avaya OneCloud""
ReadyNow global presence.
This team delivers best-in-class ITIL Customer Service aligned with the standard configurations
enabled via which offer?

A. Proof of Concept
B. Contact Center Bundles
C. Virtual Private Clouds
D. Ready Now Solutions
Question 7
With the pre-built Virtual Private Clouds (VPCs) of Avaya OneCloud ReadyNow, Avaya provides a
robust foundation for enterprise cloud deployments. The complete solution requires elements
provided by Avaya, a Partner, and/or the customer for a fully functional end-to-end solution.
Which two scenarios are supported In the Avaya OneCloud ReadyNow offer? (Choose two.)

A. MPLS VPN/Software Defined WAN Connectivity
B. CC Solutions with ACCS Connectivity
C. Analog Trunk Access Connectivity
D. PSTN Network Connectivity
Question 8
Avaya enabled the automated installation of the Avaya OneCloud ReadyNow software. With each
ReadyNow Solution, Avaya is delivering a pre-built golden image which includes the Avaya Virtual
Machine applications or services.
Additionally, which program Is leveraged to automate the implementation of network, firewalls, and
security container?

A. Avaya Update Manager
B. Capacity Planner
C. Avaya Maestro
D. vCenter Manager
Question 9
Which Cloud Delivery enables partners and customers to integrate a wide range of features,
including SIP Trunking, global DID and 800 service, voice notification, messaging, and API workflows?

A. Private Delivery
B. Public Delivery
C. CPaaS Delivery
D. Hybrid
Answer:
C
Reference:
https://www.ngcnetworks.co.uk/wp-content/uploads/2019/05/Avaya-OneCloud-Brochure.pdf

Question 10
Call Center Elite has the same deployment flexibility as Avaya Aura Communication Manager (CM).
Which two are deployment options for Call Center Elite? (Choose two.)

A. Multiple Server - Multiple VMS
B. Multiple Servers with Single VMS
C. Cloud: Communication Manager with Call Center Elite on Amazon Web Services (AWS)
D. CM Server Separation
Question 11
A customer requires support for a solution that will allow call center supervisors to monitor the
activity of groups of agents, and they need to know more about monitoring agents with the Elite
Multichannel (EMC) Supervisor Plug-in, which is part of the EMC Desktop.
How any agents do the supervisors have the ability to monitor?

A. 20 or less
B. 15 or less
C. 5 or less
D. 10 or less
Answer:
D
Reference:
https://documentation.avaya.com/ko-KR/bundle/PartnerCloudPoweredbyAvayaxCaaSSolutionDescription_r30/page/EMC_features_in_CCaaS.html

Question 12
Avaya Intelligent Xperiences provides different Avaya OneCloud deliveries.
Which software delivery is multi-tenant and designed for customers that require more standard
feature functionality in their UC and CC solutions?

A. Public
B. Private
C. Hybrid
D. CPaaS
Question 13
Which two statements about the enhancements to Elite Multichannel Release 6.6 security are true?
(Choose two.)

A. All connections to EMC 6.6 Servers use only TLS 1.2 to communicate.
B. Support for TLS 1.0 and 1.1 have been dropped from EMC 6.6.
C. Elite Multichannel 6.6 supports WebLM Release 6.x.
D. Elite Multichannel 6.6 uses SSLv3
Question 14
Refer to the exhibit.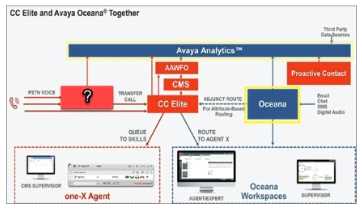 The exhibit shows a basic Avaya Oceana setup with Call Center Elite, showing a complete multi-
touch solution with Call Center Elite serving customers via voice, and Oceana supporting email, chat,
SMS, co-browsing and more.
In the box with the question mark (?), which Avaya Aura component is required to complete this
illustration?

A. Avaya Aura® Application Enablement Services
B. Avaya Aura® Communication Manager
C. Avaya Aura® Call Center Elite Multichannel
D. Avaya Experience Portal
Question 15
An Avaya customer has ordered an Avaya Call Management System (CMS) Release 19 without a
turnkey server, for installation on one of their customer provided VMware vSphere systems.
The CMS Release 19 turnkey servers are provided by the Avaya Solutions Platform program, with the
server fitting which profile?

A. ASP 110
B. ASP 100
C. ASP 120
D. ASP 130