Adobe ad0-e202 practice test
Adobe Analytics Business Practitioner Exam Exam
Last exam update: Dec 03 ,2023
Page 1 out of 4 Viewing questions 1-15 out of 69
Question 1
A newly-identified bot needs to be filtered out from all reports in a report suite.
Which information from the bot can be used? (Choose two.)

A. User-agent
B. Query-string parameter
C. IP address
D. Country
E. ISP
Answer:
A, C
Explanation:
https://docs.adobe.com/content/help/en/analytics/admin/admin-tools/bot-removal/bot-rules.html

Question 2
Analyzing the data in the image below, a data analyst verifies that the report of entries per page,
shows that the HomePage A page is responsible for only 3.4% of the total entries to the site: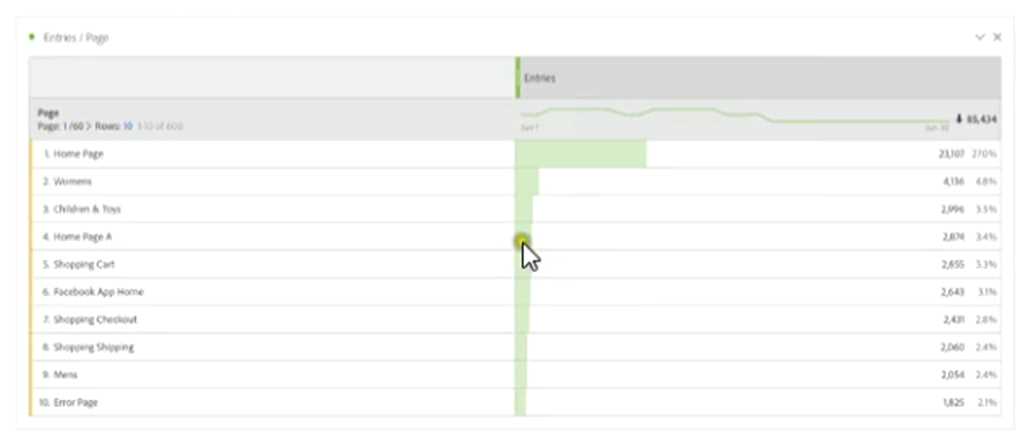 Analyzing the data in the image below. A data analyst verifies that the report of entries per page,
shows that the HomePage A page responsible for only 4.4% of the total entries to the site: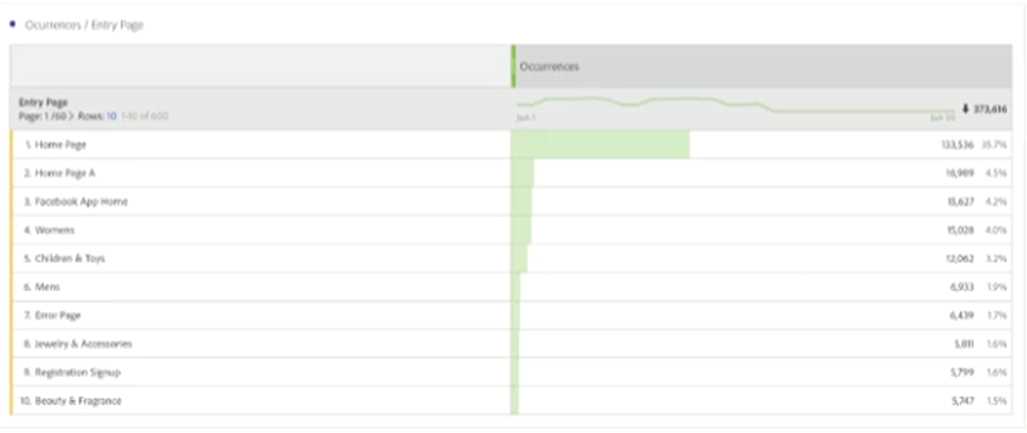 Based on both images and knowledge on the standard metrics of Adobe Analytics, which statement
is correct?

A. The page Dimension should be used exclusively with the metric of page Views avoiding false analysis.
B. Occurrences refers to all hits associated with a particular entry page, also counting events Triggered throughout the session.
C. The entry page Dimension refers exclusively to the first page that a visitor lands on the site throughout its history, so there are distortions regarding the period of analysis.
D. The entries metric refers to entries on a given page, and is counted every time the page loads on a visit.
Question 3
An analyst wants to create a Freeform Table In Adobe Analyst Workspace that shows the top week,
based on number of visitors and the number of page loads.
Which three default components should be used? (Choose three.)

A. Day of Week
B. Visit
C. Exits
D. Week
E. Page Views
F. Unique Visitors
Question 4
A business owner wants to identify the percentage of people registered in their insurance plan who
are over age 65.
Which calculate metric definition should be used to answer the business question?

A. Registration Completes of users over the age of 65/registration completes.
B. Registration Completes/Unique Visitors over the age 65
C. Registration Completes/Registration Completes of user over the age of 65.
D. Registration completes of users over the age of 65 registration completes of under the age of 65
Question 5
A marketing organization has ongoing marketing efforts across multiple channel. In the past, the
organization the following URL parameters to track their efforts:



The marketing manager asks the analyst to provide an example URL that the team can replicate.
What is a valid landing page URL with appropriate values?
A)



B)



C)


D)


A. Option A
B. Option B
C. Option C
D. Option D
Question 6
A campaign running last week had a query string error, using an invalid separator instead of between
the parameters. Due to this error, the tracking code variable as not recorded. The team in charge
denies the error, suggesting there is a problem with Adobe Analyst tracing instead.
Which tool can be is to prove the error by showing the full unstrapped URLs, including all the
parameters used? Assume no custom variables were used)

A. Data Warehouse
B. Data Feeds
C. Analysis Workspace
D. Reporter
Question 7
In the Solution Design Reference (SDR) document, variable Category is assigned as prop2 and is
set on a product page with value Shoes, it us then set in this sequence.
snooping Cart in the View cart page
Order summary on the order summary page
Order Completion on the Order Completion page where the Purchase Event is set.
If we count the number of order per category in a report, which value receives the order when one
visitor completes a purchase from that products page?

A. Order Completion
B. Confirmation
C. Shopping Cart
D. Shoes
Question 8
The Chief marketing Officer has established a monthly revenue target for an online and store and
wants to see how revenue for the current month Is tracking towards that goal.
Which Visualization should be used for this report?

A. Bullet
B. Scatter
C. Tree map
D. Fallout
Question 9
Which calculated metric represents the average number of times a user has on the site?

A. Page Vires/Unique Visitor
B. Visit/unique Visitor
C. Page views/Visits
D. Unique Visitor/Visits
Question 10
Two single condition Segment are set up for creating a Virtual report Suite. Both Segments are visit
scoped and have the following rule using default Dimensions:
Segment A: Marketing Channel equals Social Networks
Segment B: Contrives equals United kingdom
Which data subnet of the source report suite will be available when using this Virtual report Suite

A. All Visitor data for visits coming from a Social network AND from the United Kingdom
B. All Visitor data for visitor coming from a Social network OR from the united Kingdom
C. Visit data for visit coming from a Social network AND from the United Kingdom
D. Visit data for visits coming from a Social Network OR from the United Kingdom
Question 11
In the fallout Visualization which type of components can be added as checkpoints?

A. Dimension Values using an OR statement
B. Dimension values using a THEN statements
C. Dimension values using a Logic Group statement
D. Dimension values using an AND statement
Answer:
B
Explanation:
https://docs.adobe.com/content/help/en/analytics/analyze/analysis-workspace/visualizations/fallout/configuring-interdimensional-fallout.html

Question 12
A the analyst team has created an Analyst Workspace project featuring a Cohort Table and a Scatter
Visualization. The executive team, which does not have Analytics access, has requested distribution
of the report.
Which available file format should be used for distribution of the report?

A. PFF
B. PTT
C. CSV
D. XLSZ
Question 13
An Analyst need to create a report using a mix of pages viewed by visitors and customer events to
understand where visitors abandon the process.
Which type of report should the analyst create?

A. A patting report within Report
B. A Pathfinder report within workspace
C. A fallout analyst within Workspace
D. A custom event funnel within Reports
Question 14
The product team wants to upload product pricing data from an offline database to the transaction ID
in Adobe Analytics.
Which data import tool should be used for this task?

A. Data sources
B. Data Connecter
C. Classification Importer
D. Adobe fastETL
Answer:
A
Explanation:
When there is offline data you want permanently written into Adobe Analytics
Options:
Summary: simple data uploads, by day or limited dimensions
Transaction ID: data uploads that connect an online endpoint to offline data, and fully associate
imported data to a visitor snapshot captured online (e.g. orders complete online, and get returned
offline)
Transaction ID data sources allow you to not only view online and offline data side-by-side, but tie
the data together. It requires the use of the
transactionID
variable in your Analytics implementation.
When you send an online hit that contains atransactionIDvalue, Adobe takes a "snapshot" of all
variables set or persisted at that time. If a matching transaction ID uploaded through Data Sources is
found, the offline and online data is tied together. It does not matter which source of data is seen
first.

Question 15
A company just hired a new analyst. The new resource does not have any previous experience with
Adobe Analytics but does with a different free Analytics tool, which is also install on the website for
remarketing proposes. When analyzing Bounce Rate in both of the tool, the sees a significant
different between them.
What is a possible reason for this different considering the implementation do not have any issues?

A. In Adobe Analyst Bounce rate is calculated using the formula Session divided by Enteries. In some other Analytics tools, Bounce rate is calculated using the formula Single session divided by session.
B. They way Adobe analytics visitors is different from the rest of the market based on IP addresses.
C. In Adobe Analytics calculate Visitors is different from the rest of the market based on IP addresses.
D. In Adobe Analytics, Bounce rate is calculated using the formula ''Bounces divided by Entries ''. In some other Analytic tools. Bounce rate is calculated using the formula ''Single-page session divided by sessions.''
E. Metrics can never be compared between two different tools